The Best Aretha Franklin Moments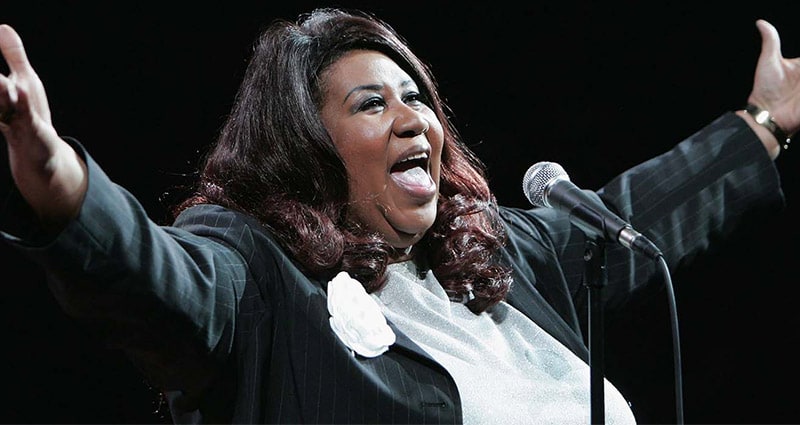 Yesterday saw the music world come together to mourn the sad death of Soul and Motown legend, Aretha Franklin. Known as, the Queen of Soul, Franklin was responsible for some of the world's most famous songs including Respect, Natural Woman and I Say a Little Prayer.
Aretha touched many people during her career, performing concerts across the world until her fear of flying got the better of her in the 80s. from this point on she stuck to gigs in the USA but still made an impact, and sang at President Obama's inauguration in 2009.
Here at Champions Music & Entertainment, we acknowledge how influential Aretha's career was, not just in America, but in all corners of the globe.
See a rundown of our best Aretha Franklin moments below.
The release of Respect in 1967
This is the song that Aretha has perhaps become best known for over the years. The track went straight to the top of the Billboard charts at the end of the 60s and marked a time of change in the country. As protests to end discrimination swept the nation, this song became something of an anthem to accompany them.
The message of the song focuses on demanding more respect for women in society. Women were playing a more and more important role in the civil rights movement, and this song was all about them getting the recognition they deserved.
Stepping in for Pavarotti
At the Grammys in 1998, world-renowned operatic star, Luciano Pavarotti, was due to give a showstopping rendition of Nessun Dorma. However, at the eleventh hour, he fell ill, meaning organisers desperately needed someone to fill the void. Step forward, Aretha. Despite Soul and Motown being her genre of choice, and having no time to rehearse, Aretha had no problem in stepping forward and giving a wonderful rendition of the song.
Collaborating with Curtis Mayfield
During her incredibly successful career, Aretha teamed up with a whole host of fantastic music producers. Her most famous partnership may have been with Jerry Wexler, but as her career progressed she also teamed up with Curtis Mayfield. Creating the soundtrack for the movie Sparkle, they also went on to create an album together.
Many of her fans cite their disappointment that they only managed to make one album together.
Covering Eleanor Rigby
One of the Beatles' most famous tracks, the 1966 hit was a huge success, reaching the number one spot in the UK. Many people would think there was no way this song could possibly be improved, but Aretha did exactly that when she released her cover version in 1969. Giving it an upbeat, soulful twist, she also performed this version live at many of her concerts.
The Blues Brothers appearance
In 1980, Aretha was still as popular as ever amongst her fans but had slipped off the radar slightly in terms of the wider public. This all changed when she took on a starring role in the comedy The Blues Brothers. Appearing as Mrs Murphy in the Hollywood hit, she performed the song Think in the film which went down a treat with fans and critics alike. Aretha wasn't always nailed on for the role, the film studio initially wanted a younger, newer name for the part, but leading man, Dan Aykroyd (of Ghostbusters fame) insisted on Aretha. A great decision in hindsight.
Aretha's death from a long time illness was not completely unexpected, but it has still sent shockwaves across the world. An extremely well-loved personality, social media has been awash with an array of messages from famous faces.
forever ♡ pic.twitter.com/E4JopV0ffT

— Ariana Grande (@ArianaGrande) August 16, 2018
Never met her, only worshipped her from afar. Thanks for the music, your Highness, & thanks for the honor of a "blink & you'll miss it" cameo in your video. #Gr8ful #QueenOfSoul #RIP https://t.co/8H2JJBfEbR via @YouTube

— Mark Hamill (@HamillHimself) August 17, 2018
Aretha helped define the American experience. In her voice, we could feel our history, all of it and in every shade—our power and our pain, our darkness and our light, our quest for redemption and our hard-won respect. May the Queen of Soul rest in eternal peace. pic.twitter.com/bfASqKlLc5

— Barack Obama (@BarackObama) August 16, 2018
I'm saddened to learn that Aretha Franklin has passed.The most soulful and inspirational singer of our time. / Je suis attristée d'apprendre le décès d'Aretha Franklin. La chanteuse la plus inspirante de notre époque. - Céline xx…
? : Kevin Mazur https://t.co/3Tz7G2W205 pic.twitter.com/Q5DtmJ1IVa

— Celine Dion (@celinedion) August 16, 2018
Here at Champions Music & Entertainment, we understand how important Aretha Franklin's music has been on the industry, and her legacy is sure to live on for years to come. Here at Champions Music & Entertainment, we have a whole host of Soul and Motown acts available to book for any event.
For more information, get in touch by calling 0207 078 78 76 or complete our online form and a member of our team will get back to you.