20 of the Best First Dance Songs for your Big Day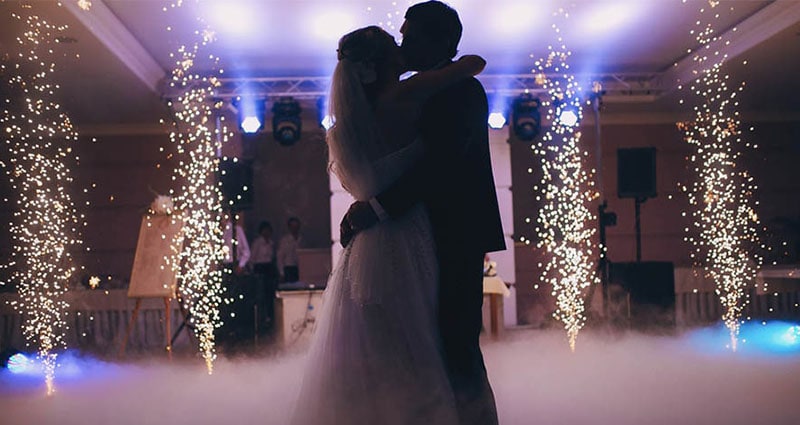 The moment at a wedding reception where everybody stands in awe to watch the bride and groom share in their first dance is a beautiful occasion.
Cherishing your memories of falling in love and tracing your journey to that moment is best captured through song. But which song best captures your love story? Perhaps there was a moment that only a song sums up, perhaps you want the song to tell the narrative of your romance. Either way, if you are struggling for inspiration, we have compiled a list of unique first dance songs to make your big day extra special.
Bon Jovi - Always
Staggeringly intimate, the deep and passionate vocals of Jon Bon Jovi have been a feature of weddings for many years. The best-selling power ballad was an international hit in 1994 and has remained a favourite among first dance wedding songs.
Bill Medley & Jennifer Warnes - Time of my Life
Made famous on the dramatic hit film Dirty Dancing, Time of My Life is a hit for first dances. Though, when the song rings out, expectations rise. Like all great show songs, a dynamic dance is expected alongside this one. Join up with a choreographer to learn the routine or ignore the wedding rule book and do it in your own way!
Bryan Adams - Everything I Do (I Do It For You)
One of the greatest songs to have come out of the nineties, Bryan Adams' hit song Everything I Do is one of the most romantic numbers around. Having sold over 15 million copies, the song has become a mainstay in the wedding industry and has been consistently covered by live wedding bands.
Shania Twain - From This Moment On
A country pop track rooted in romance, From This Moment On gained worldwide acclaim in the nineties and remains a wedding day winner to this day. Shania's incredibly far-reaching vocals, backed by a full orchestra, ensure this song goes down in musical history. For your first dance to be flowing with intensity - this is a top choice.
Barry White - My First, My Last, My Everything
Barry White's most popular song is an upbeat disco hit but also one of the most charming numbers around. Passionate, bold and with deep lyrical meaning, Barry's gift to the world is a brilliant choice for your first dance and to kick off your unique wedding entertainment. In the absence of the master himself, you can book a brilliant Barry White tribute act today!
Sam Cooke - Wonderful World
The fact that Sam Cooke's hit song, Wonderful World has survived six decades and is still treasured by so many makes it a wonderful choice for your first dance song. A true classic, the song's lyrics: 'I do know that if you love me too, what a wonderful world this would be' shows that sharing your life with another person is a true gift.
Mumford and Sons - I Will Wait
A great love ballad with exceptionally powerful instrumentals, I Will Wait is a fiery first dance song. Though a bold choice, this vibrant song will set the tone of your reception to have your wedding guests joining you on the dance floor before long. Slow dance, fast dance or sway, this Mumford and Sons favourite is a stellar choice.
Berlin - Take My Breath Away (Top Gun)
Another movie hit, Take My Breath Away wowed the world when it became the defining song of popular motion picture Top Gun. A perfect slow song for reflecting on your collective journey - this song is essentially a love letter.
Etta James - At Last
A little more oldie worldy, Etta James' intoxicating classic, At Last is a tender love song.. With Etta's rasping voice backed by jazzy instrumentals, this age-old love song is elegance encapsulated.
Frank Sinatra - L.O.V.E
The masterful crooner and leader of the rat pack has several contenders for beautiful first dance songs, but we have narrowed it down to the charming song, L.O.V.E Perfectly personal, this song bears all the hallmarks of a slow dance special. For something only slightly less subtle, Fly Me to the Moon is another Sinatra song that can't be far from your thoughts.
Ellie Goulding - How Long Will I Love You
Ellie Goulding's emotive masterpiece is this generation's answer to the wedding classics from yesteryear. The sweet song has been responsible for thousands of happy couples' first dance and is only set to increase in popularity in 2019.
Aerosmith - I Don't Want to Miss a Thing
Utterly in the moment, Aerosmith hit I Don't Want to Miss a Thing is one of the world's most romantic songs. Far from understated, this song is one of the most expressive around and is a great statement of your love. A leading live wedding band can capture the intricacies of this song which, let's face it, is best seen live.
John Legend - All of Me
In recent times, John Legend's pop hit, All of Me has led the charge at wedding receptions. Emotional, honest and undeniably beautiful, this song is a contemporary classic. Full of hearty lyrics, from 'love your curves and all your edges, all your perfect imperfections' to 'even when I lose I'm winning' - this is one of the most romantic songs in music today.
The Temptations - My Girl
Softly sung, with a magical melody, My Girl is on most wedding song lists. It has also established popularity as 'the' wedding song with many happy couples selecting it as their first dance song.
Thinking Out Loud - Ed Sheeran
A modern-day pop master, Ed Sheeran has almost acquired a monopoly on the music scene. His smart lyrics and unique style have endeared him to millions across the world and this particular romantic number has become the go-to for many first dances. The song's video features a first dance in itself and if you're feeling truly brave, why not replicate it?
Toploader - Dancing In the Moonlight
The alt-rock band's chart-topping song Dancing in the Moonlight is a wedding day favourite. For something upbeat, stirring and fun for your first dance, Toploader are a great choice. For a spectacular day, you can book the original Toploader today!
Stevie Wonder - You Are the Sunshine of My Life
There are few couples brave enough to leave Stevie Wonder out of their wedding playlist altogether, but we stake Stevie's case to be the man behind the mic for your first dance. Stevie's 1973 single is inside the 500 Greatest Songs of All Time, voted in Rolling Stone for good reason. A song to melt the hardest of hearts, You Are the Sunshine of My Life narrowly sees off competition from Stevie's more famous hits such as Isn't She Lovely.
Better Together - Jack Johnson
Becoming a first dance favourite over the past few years, Better Together symbolises love and the union that is marriage. Jack Johnson's song is a perfectly balanced soundtrack, flowing between a mellow and upbeat sound.
She - Elvis Costello
A classy choice, She by Elvis Costello has featured as the song of choice for countless dance floor twirls. A delightful song that guests will love and the happy couple will remember, this is the quintessential answer to your first dance conundrum.
Musical Medley
While not a song perse but musical medleys have become popular over the years. For those who cannot choose or wish to feature more than one song in their first dance, a mashup of all your favourite songs should be a consideration.
Book With Us
We hope you enjoyed our ideas for romantic first dance songs. The Champions Music & Entertainment agency are experts at finding the perfect wedding band for your first dance.
For amazing wedding music bands, wedding DJs and wedding vocalists to play your big day, take a look at our vast selection of wedding acts. Simply contact our team via email at agents@championsukplc.com. Alternatively, call a booking agent today via 0207 078 78 76.