How To Become A DJ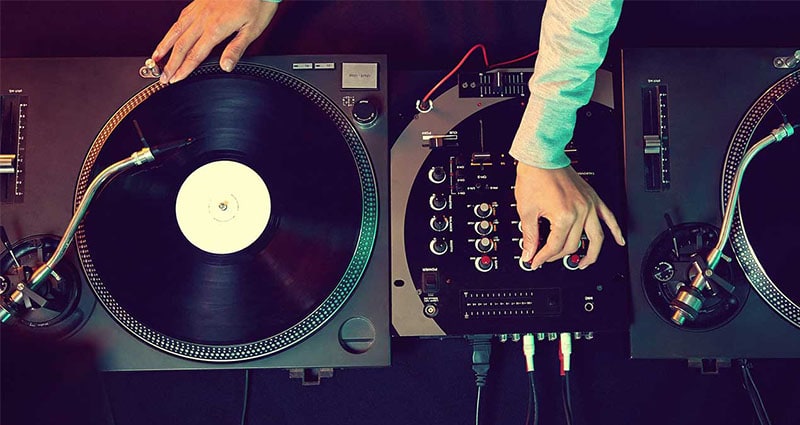 With the likes of Calvin Harris and Avicii playing some of the biggest stages in the world, many budding DJs are being inspired to try and take their own music to the next level, and make DJing their career. However, for those who only have a keen taste in music but no other experience in DJing, a major headline gig seems an impossible milestone. For many people it is; but for those who put in years of hard work, it is possible to make a name for yourself and become a successful DJ. Here are a few steps to get you started on your DJing career:
Gather Equipment
First, decide if you want to go analogue or digital; analogue is the more traditional means of DJing, that uses vinyl. Digital is much more mobile, and in many ways, easier to use. Using mixing software provides different tools, making it easier to beat-match and transition between songs.
Once you've decided which route you're going to take, you need to invest in some equipment. However, don't go crazy and buy every single bit of DJing equipment you see. Get the basics first, and then as you continue with your career you can invest in more equipment.
Build Up Your Music Collection
Once you've got all your kit, you need to get creating. Make demo CDs that act as a promotional tool and can be shared with as many people as you want. Although you may want to specialise in a specific genre of music, it is sensible to get a variety of music under your belt. This opens up a lot of opportunities and allows you to perform at a wide variety of events while you're still trying to make yourself known. Always be aware of current music trends and new songs that you can use in your own music so that you stay relevant.
Practice Your Skills
As with anything, practice makes perfect. Familiarising yourself with your music by practising as much as possible will make the prospect of playing in front of crowds much less daunting. Also, let other people hear your music and take on any criticism you may receive. Sometimes you need a fresh pair of ears to evaluate your music when you've been listening to it for too long, but remember to appreciate that not everyone has the same music tastes, and won't necessarily be an enormous fan of your work immediately.
Start Performing At Giggs
Once you're happy with the music you are making, it is time to get out there and let other people hear it. Be networking constantly and take every possible gig you can; it may not be the most glamorous or well-paid job, but the only way to progress in the music industry is to get as many people as you can to hear you. Get a recurring job that will help you to become a familiar name. Working on a local radio station or for a company that supplies wedding DJs means you are out there being heard; from there, you can continue to grow your brand.
At Champions (UK) we have an array of DJs of varying genres, who have grown from humble beginnings to some of the biggest names in the music industry, such as Trevor Nelson, Jo Whiley and Basement Jaxx.