Choosing & Securing Your Dream Wedding Location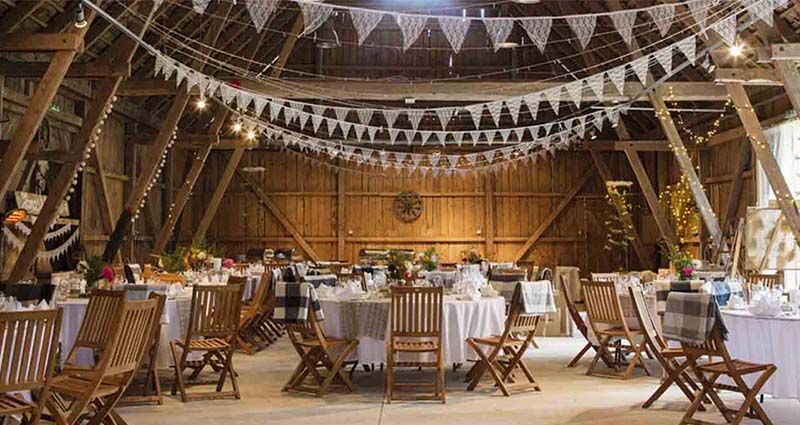 For your dream day, nothing should be out of reach. There are thousands of amazing venues in spectacular locations across the United Kingdom, and we are here to help you secure the right one for you and your wedding. By you, we mean you as a couple; as this represents one of the first big decisions you will make as a couple. Here are tips to secure your dream wedding location.
Get in early
If you have a specific venue or style of venue in mind you should book earlier than normal; if you are less concerned with your location, venue and date you can leave it a little later. Generally, the rule still applies for the most popular wedding venues - you cannot book early enough!
Booking 12-18 months ahead of your wedding date is usually the recommended timeframe for a summer wedding, whereas you shouldn't have too much trouble sourcing a venue outside of the peak times, even three months before your big day. But this can be risky and if you do decide to book later, you should be a little flexible on your date.
For an impromptu summer wedding, your dream location is still absolutely possible. Again, just be flexible and you will have a better chance at late cancellations falling into your hands. Last-minute deals can be beneficial as they can cost up to half of a regular wedding package.
What to consider when choosing a setting
If you have already fallen in love with a place and see it as a great location for your wedding, consider the logistics of the area before booking a venue. It is customary to offer accommodation options to your guests and ensure their comfort and ease of arrival is paramount; especially if you have elderly or disabled relatives among your guests.
Some hotels offer complimentary rooms and welcome drinks when you book your wedding reception with them. This can be beneficial in keeping your group together and ensures ample opportunity for guests to meet each other. Some guests will want to stay ahead of the game and book a place to stay almost as soon as you've booked your venue, so being aware of what is around you is a good idea.
This way, you can even recommend places or book certain places for your guests. It is also key for arranging travel options. An accessible location with taxis available to be booked at a competitive cost on the night, should also be a factor.
What to look for in your location
What is your dream location? It could be the place you grew up in, it could be the place you met, or first held hands, the site of your first kiss or it could have absolutely nothing to do with your journey as a couple. You may have always dreamt of going to this place or marrying the love of your life there or you may still not know where that place is. Here are 3 top ideas for your wedding reception settings:
Quiet and quaint
Growing in popularity in recent years, barn wedding receptions have played host to many fairy-tale days. Basic, spacious and often with high ceilings, barns are perfect for your wedding party because you can put your own imprint upon them.
Whether you want to dress it up for dancing or dinner, or both - there is scope to do that, and as an added bonus, barns often come with gardens or fields that can make for brilliant photos and beautiful walks for intimate moments with family and friends.
Marquees offer a similar flexibility and link between the indoors and out, so whatever the weather, you can keep your guests happy and experience the best of both worlds on your wedding day.
Stately home
Another one that has been a popular choice for brides and grooms, stately homes present elegance and sophistication. Choosing a stately home means choosing an all-encompassing venue, suitable for the needs of your wedding day. A stately home can make for amazing pictures and a wonderful time for friends and family – although it can have its limitations. One of these limitations is the style of the event. The venue is likely to best fit a jazz band or an oldie worldie style cover band, while a party band might not quite fit the ambience.
Town or city
While not the traditional wedding described in books and brought to life in films, the city is still a wonderful place to have a wedding. With some of the finest hotels found in cities, as well as places suitable for all budgets – financially a city wedding is not an all too bad idea. With a host of great landmarks across the nation's capital or the country's second cities and towns, there is a history and charm that could be well-suited to your special day. Also, it creates the feeling that the whole town has stopped for you and will give you amazing memories of that location to treasure for life!
5 amazing locations for weddings
Roman Baths
The Roman city of Bath is home to all manner of intriguing landmarks, not least it's impeccable Roman baths. These turquoise waters are great for wedding photos while there are a host of amazing venues surrounding, and chances for your guests to chill out in the city's various spa facilities. With the Cotswolds and Stonehenge a stone's throw away from here, opportunity is rife for you to organise activities and let your guests to explore.
Polhawn Fort
Few venues in the country hold the wow factor of Polhawn Fort. Covered in green, with the sea creeping up close to the cliff tops with rocks and sand below, this venue is extraordinary and ideal for a dramatic coastal wedding.
The Gherkin
If a city wedding is for you, it doesn't get much better than taking your wedding reception to London's most famous skyscraper. The Gherkin is the staple architecture of the capital's skyline and a wedding reception on its top floors ensures 360-degree views.
Dunvegan Castle
With the mystique of the highland hills surrounding the luscious lochs, there are few better settings for wedding breakfasts than the remarkable Isle of Skye. This immersive location is often picked for weddings and the ability to furnish your day with boats, bagpipers and photos in the hills makes this a top choice.
National History Museum
An unbelievable venue, the National History Museum is a historic choice for a wedding with a difference. In the great entrance hall, surrounded by dinosaurs and deities, you can wow your guests and show your love for one another in one of the most iconic of Britain's venues.
Browse and book wedding entertainment
The Champions Music & Entertainment agency helps source the best event entertainment to wow your guests on your wedding day. With thousands of high-profile acts and award-winning wedding bands available to play across the United Kingdom and abroad, we help you get it right once you've chosen your location and venue.
Contact Champions Music & Entertainment to enquire about hiring wedding entertainment for your big day. Get in touch by emailing [email protected] or by calling us on 0203 793 4042 now.