Why Is A Garden Party A Great Idea?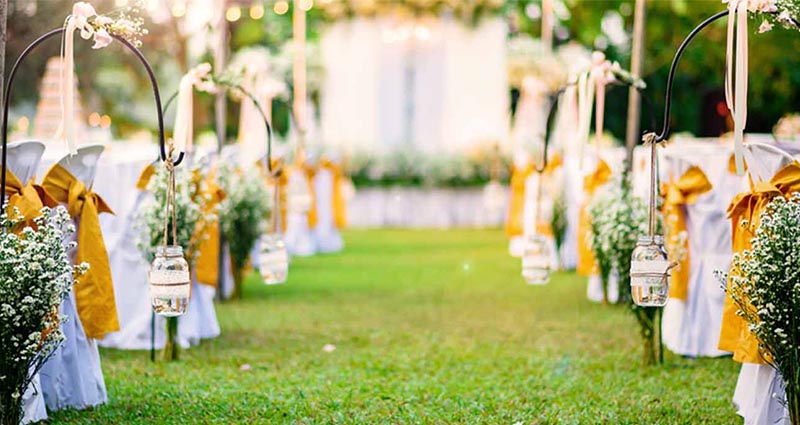 The first hints that spring is on its way are starting to emerge. The morning sun burning off the frost from the ground and the days beginning to get a little longer once more - give us hope that the cold dark nights will soon be over.
But we're here to explain why hosting a garden party is a great idea in all seasons, not least in spring. So if you're planning a spring-time shindig or summer celebration - start the planning now and you will have an amazing occasion on your hands.
It's A Perfect Fit For All Event Types
Choosing your theme is essential to the feel of the event and it should be allied with the season and the event style.
Elegant Occasions: Weddings & Corporate Events
A trend at both wedding and corporate garden parties is a champagne reception and what better way to begin an event than by sipping champagne in the sun.
A formal occasion also allows you to make use of nature for your garden party decorations. Enjoy the flowers in bloom in your surroundings or the finely shaped shrubbery at a stately home. This doesn't limit you to what is there already, but it can help inspire you in terms of colour schemes.
The outdoors allows you to better shape your perfect destination. You can set up anywhere, within reason, meaning the seaside, the city, the woodland, the hills and lakes are not off limits. For something more pragmatic, you can choose a modest outdoor space and make your own exciting additions, from marquees to ice sculptors, water features to lanterns.
A jazz or swing band playing hits from yesteryear could entertain guests over lunch while lawn games such as croquet give guests a chance to get away from the table and mingle. The beauty of croquet is its flexibility, making it ideal for stately homes as well as more modest venues.
Fairy lights and flowers make for ideal decor, and a cover band can lead your guests a merry dance with hundreds of your favourite hits from rock, pop, soul, Motown and more.
Casual Events: Birthdays & BBQs
You may wish for a more casual affair to celebrate a Birthday party or anniversary with friends? Whatever the reason, a relaxed vibe can be created with a hog roast or BBQ, and the addition of some fun summer garden party ideas. Garden party games for adults and children such as giant Jenga, skittles and Noughts and Crosses will go down well. You could even adopt a carnival style, offering sack races, coconut shies and a bouncy castle to your guests.
A beach party might necessitate a jacuzzi or pool, a bar and a party DJ for example, helping your guests to get into the mood. A volleyball court can be another popular addition to this kind of party.
Festival themes have taken off in recent times, and are loved by many. If you are looking to impress a crowd of 200+ people this is a perfect way to allow people to wander at your event. Allowing many entertainment options, with various tents, guests can pick and choose what they want to see and do.
If you want the festival style without the stress, you can make a few brave decisions, putting out hay bales or living room chairs for guests to sit on, and deck out your outdoor space with signs, flags, lighting or other quirky features to keep the theme alive.
Planning On Running Into the Evening? Find The Perfect Garden Party Lights
Almost every great landmark should be seen twice, once in the light and once more in the dark; from the light show at the Eiffel Tower to the lantern-lit path at the cathedral cut into the rocks at Petra; dramatic firework displays and meteor showers. Natural light or man-made, watching pitch-black become a collage of colour is one of the most beautiful sights around.
There are many options to give the gift of light to your party. Using fairy lights or lanterns to light the paths can be an irresistible addition, whether marking the ground or hovering above our heads. An outdoor chandelier can be a wonderful quirk, while tree lights if mastered can be a magnificent sight. If you're feeling inventive, uplighting can be used to illuminate plants, trees, marquees and architecture.
If the creation of a boutique, unique and utterly romantic setting is not your goal, you can use your lighting to give your party a spark. Bonfires have become a feature of spring garden parties and fireworks are a favourite in winter but can light up the sky whatever the season.
DJs and party bands such as the LED Drummers can offer a dramatic audio and visual showcase to add excitement to your event. Whatever lighting you choose to take your event from evening into night - make it fit your theme and garden party goals.
Ample Garden Party Food & Drink Options
Whatever type of event you choose to host, it would be a cardinal sin to avoid these essentials. A bar for many offers a way to relax and loosen collars at a party. And an event without food is an event that doesn't last long!
There are more options than ever before to cater for your event. A cocktail bar is a popular choice and can be unique to your event. By offering customisable cocktails named after yourselves or your guests or by booking a barperson able to juggle your drinks or light them up in flames - you will have a wow-factor worth coming back for.
Food vans have become commonplace at events in recent times, with more and more high-quality being served up on restaurants on wheels. 2018 even saw Michelin Star chef Aarthi Sampath start her truck van business, Kukree.
When not doing the rounds at festivals and events across the country, these food trucks are available for events and garden party weddings. From woodfire pizza to waffles; falafel wraps to roast dinners - now there is something for everyone.
If that is not your scene though, you can opt for top-class catering to deliver hot or cold buffets and three-course dinners to impress your guests. The options are endless - just make sure it fits your occasion.
Diverse Space & Rustic Style
A garden party offers more space to play with, and a more diverse array of areas to do so. Marquees, gazebos, wigwams and even barns can form a great connection between the indoors and out - while trees can also provide shelter from potential wind or rain. Having a place to retreat should be considered for your, especially if it is pre-summer.
But the beauty of a garden party lies in the ability for you to create romantic corners, games areas, mingling hotspots, food and drink areas and entertainment areas at will. Whether it is a cosy occasion or large event, guests will revel in the extra freedom afforded to them.
Romantic & Expressive Playlists
Whether you are booking a party band or a DJ to run the playlist at your event, it is important to have some control over what your guests will be listening to. Whether you hand your band a short or long list of songs you would like to feature in their set or just give them pointers as to what you want where - make sure it fits in with the event.
Make sure the person you choose to run the playlist knows when to drop the heat and when to build it, as well as knowledge of the genres and styles you want.
Of course, if you are planning an outdoor party for your wedding day, you will want to be more involved in the playlist picks, whereas you may wish to take more of a backseat and let the DJ or musicians work their creative magic at other events.
You Can Bring Something Different to the Party
With extra space to enjoy and a feeling of excitement that comes with a garden party, it is an ideal time to introduce alternative entertainment to your event. An acrobat, dancer or aerialist could bring your marquee to life, while firebreathers or stilt walkers could bring something unique while guests wander the grounds.
Caricaturists and walkaround magicians show that you have taken the time to think about the small details at your event and care about the time your guests are having.
Book Party Bands Today!
With our award-winning music and entertainment agency you can browse thousands of acts for your garden party hire. From something different to something traditional for your corporate party entertainment, wedding entertainment and more.
Contact a member of the management team today via agents@championsukplc.com or 0207 078 78 76.