7 Breathtaking Rustic Wedding Ideas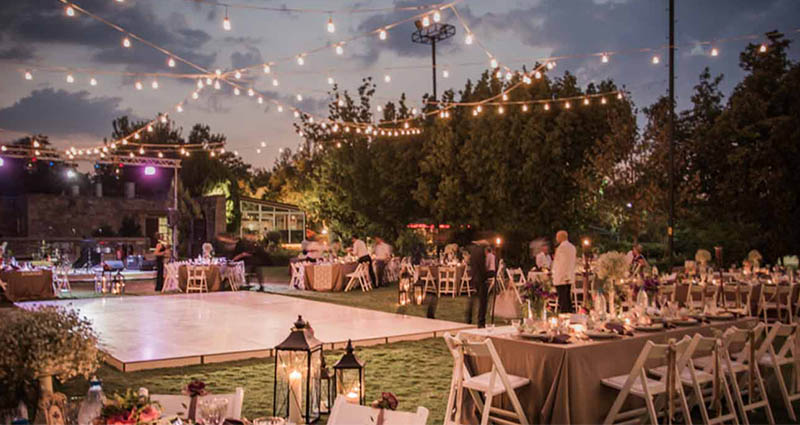 We explore some of the most enticing, enchanting and ultimately entertaining rustic wedding ideas doing the rounds right now. If you are looking to enjoy your day with a special country occasion, we are here to help you get inspired. If you haven't decided on a rustic wedding as of yet, why not?
1. Get Out on Nature's Doorstep
A rustic wedding is no rustic wedding without an element of the outdoors to it. Ensuring your wedding sits on a backdrop of woodland, fields or farms can be a wonderfully unique way of celebrating. A barn wedding venue has become the hallmark for any rustic wedding breakfast and the fusion between the indoors and outdoors ensures a freeing effect on your friends and family.
Likewise, a marquee filled with twinkle lights and mason jars is one of the oldest tricks in the book for your big day. To go one further, make it a giant tipi. The advantage of choosing a marquee or tipi means you can have your wedding reception wherever you want. By the sea, by the trees, on a farm, in the middle of nowhere - wherever you want to hold your after-wedding antics, you can make it a reality.
And this needn't only be reserved for the after dinner wedding entertainment element, you can even decide to make your vows outside too. Knowing there is shelter just around the corner in the form of a barn, marquee or tipi means you can set up some chairs and an aisle that meanders through woodland trees or sits on a dramatic cliff face.
2. Make Your Seating Stand Out
A chair is a chair but somewhere to sit can be so much more. A rustic wedding theme allows specific freedoms in an array of avenues, and your seating is by no means exempt from this creative license. Luckily there are already some amazing seating decisions that have been made by others to inspire us.
Some have used benches and picnic tables carved from locally sourced logs, others have made the brave decision to bring a different chair for every attendee. Some have used hay bales covered in cloth and others have turned the lawn into a living room with sofas and a grand piano.
It isn't just the style of the seating that you have to contend with but also the set up itself. You may wish for a circle of seats surrounding your happy couple or something more elaborate. A hay bale crop circle arrangement maybe?
3. Book a Creative Wedding Band
A unique live band can light up your rustic wedding. With thousands of barnstorming acts available to bring something a little different to your big day, Champions Music & Entertainment can team you up with the hottest music acts around. You can enjoy the services of a dynamic cover band with a large repertoire or let the sweet sound of jazz and swing bring your guests to the dance floor.
For some toe-tapping sea shanties and gipsy style jazz to bring your guests to the dance floor - The Curious Sounds are the band for you. Offering a unique soundtrack merging ragtime rhythms with New Orleans Jazz, this group have emerged as a stellar name for a rustic wedding reception. Another favourite for barns and marquees is the leading Bavarian Oompah band.
4. Personalised Wedding Favours
Increasing in popularity in recent years, creative wedding favours have become a key aspect of beautiful rustic weddings. Providing a talking point and a wonderful reminder of your wedding day in the years to come, personalised wedding favours are a fantastic addition.
A variety of options are available in this area. You could personalise items to your special day or to the attendees. Why not do both? Wooden placemats or coasters carved with the person's name can be a rustic style finishing touch, and who's to say this has to be wood? You can laser cut a place card or cut it into marble - the thought is the same.
Some of the most interesting party favours include specially brewed beers, homemade chocolates or personalised wine corks showcasing the details of your day.
5. Get Your Guests Talking
You want to remember your wedding day for the rest of your life and you want your guests to share in that unrivalled joy. Finding things for them to do and to talk about will see them have as much fun as you. Get them fooling around in a photo booth or chatting over a game of croquet or giant Jenga. A balloon artist, inflatable props and bubbles can all provide what you're looking for. The beauty of a rustic country wedding is that you can really utilise an outdoor space.
One of our favourite ideas is to add some outdoor games to the bill. This could mean carnival-style games like a sack race or a coconut shy.
6. Make a Statement
There are many ideas to entertain guests at wedding receptions, so let's take a look at some of the more alternative ways of making a splash.
A Wedding Magician
An illusionist or close-up magician can add another dimension to your wedding day. Creating a little bit of magic to keep your guests entertained while eating or either side of the speeches can put awe on the faces of your guests. Alan Mylecraine is a stellar magician and a winner at the 2013 Wedding Industry Awards. You can find many more members of the Magic Circle today, so take a look at our offerings.
A Caricaturist
Another wonderful talking point, a caricaturist can scour the room making your guests chuckle with fun portraits of them. Again, this is a great opportunity for memorable souvenirs to come out of your day.
Singing Waiters & Waitresses
Singing Waiters & Waitresses can be a hilarious addition to your rustic wedding day and can keep guests entertained through dinner time, ahead of the live music and the bride and groom's first dance. Blending into your crowd ahead of the big reveal, the singing waiters and waitresses can surprise guests with renditions of your favourite songs, from West End hits to classic pop.
7. Let There Be Light
Fireworks
Light up the night sky with a memorable firework display and you can take stock of the night. Fireworks make for a perfect focal point for the bride and groom to spend a moment in each other's company - watching a sensational display.
Starlight
Set up telescopes or have a specialist stargazing area, marked out with old blankets or rugs. This can be truly satisfying to yourself and your guests, as it can provoke memories of loved ones passed for some, and for others can remind them of the incredible unlikeliness that they would end up as one.
A Campfire
Perfect for a rustic wedding, a campfire is a fiery twist. Whether you want singing and dancing around the campfire or just a wonderful warmth for your evening - a campfire can be a unique way to bring everyone together.
Light It Up
One of the finest event bands in the UK today, Light It Up can really light it up. With drums, saxophone and guitar all lit in LED lights, this impressive performance, complete with an amazing and eclectic set list, will have everybody rushing to the dance floor.
Book Your Rustic Wedding Entertainment
Whether you're looking to book wandering acts or after dinner wedding entertainment, Champions Music & Entertainment are on hand to make it happen. With thousands of acts on our roster, you can browse wedding DJs, wedding bands and more today.
Simply get in touch with our team via email at [email protected] or call us at 0203 793 40 42.