10 of the Best Summer Party Ideas in 2018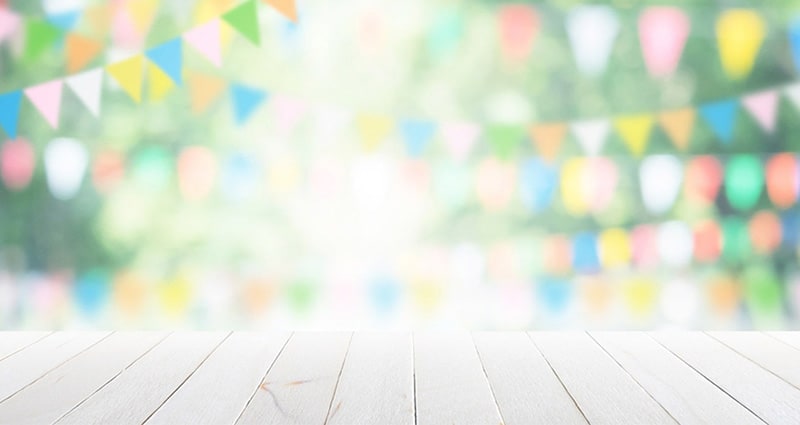 For the most inviting summer party ideas and trends to turn your summer party into the event of the year – you are in the right place. Whether you are organising a private function or corporate event, we offer suggestions to make your summer shindig stand out and inspire those lucky enough to attend. Here's how we think you can make a splash:
For the most inviting summer party ideas and trends to turn your summer party into the event of the year – you are in the right place. Whether you are organising a private function or corporate event, we offer suggestions to make your summer shindig stand out and inspire those lucky enough to attend. Here's how we think you can make a splash:
Choose Your Venue
Choose something unique, with outdoor space aplenty. While we hope the weather won't turn on you, a venue that gives you a versatility to take your party inside and out with ease will give you peace of mind.
1. Summer Garden Party Ideas
For a garden party, a period property with a courtyard or garden is perfect, offering you more control over your event should the weather fluctuate. Nothing says summer like green grass and clear water. A space with trees, lawns and even a pond or fountain can be particularly popular with your guests and delegates. Garden parties are freeing, people love to get out into the open air where they don't feel confined and are likely more relaxed.
Being outside can also mean less stress for you. With less mess and more sun, you can be safe in the knowledge that people are content without the constant need for you to entertain. To many people – the sun brings all the fun they need. Add some stellar entertainment, games, maybe a theme, a marquee or a summer BBQ- for your event to really take off.
2. Boat Party
Boat parties are a modern trend and can have your event moving at a rate of knots. A boat party can play host to a sophisticated event or give birth to a wild party. Whichever you aim to do, you can book leading acts to make your boat party a huge success. Whether sailing down the Thames in a Yacht or having a party on-board a docked boat, you can book a celebrity DJ, jazz band or other musical act today.
3. Terrace Party
If you are limited to a city space, you may wish to take your party to a balcony or rooftop, and this can make for a unique party. A venue overlooking the cityscape of London, the street art of Bristol or the River Mersey of Liverpool can give your event a special vibe. An urban-feel can make for an exhilarating event and, with the right entertainment, decoration and talking points it can be a real winner.
Fun Summer Party Themes
Creative party themes for adults and families are a brilliant way of displaying camaraderie and setting the tone and feel of an event. A natural talking-point, a good theme can really bring people into a summer mood. Here are some themed dinner party ideas we like:
4. Californian theme
Bust out the surfboards, dust down the straw hats, pull out the parasols, put some charcoal on the BBQ and let the sounds of summer take you from day into night. A Californian theme is symbolic of a good time. The beauty of such a theme means you and your guests can go as far as they wish. While cocktails and palm trees are a given, you could bring a manned surf shack or a VW van to serve up seafood, you could offer a Hollywood style sign or Walk of Fame, a basketball net or limbo pole. There are many ways to go, cosmopolitan or beach for a start, and your guests are guaranteed a good time.
5. Festival-feel
Growing in popularity, a festival theme can be a lot of fun and it can also say a lot about you and the style of your event. With a freedom to be inventive, a festival theme allows your biggest ideas, ambitions and dreams to come to fruition. Let your artistic side come out and combine that creativity with ideas from past events to inspire you.
Why not make seats out of hay bales or pallets, and tables from barrels, put rugs and cushions in front of a stage area, light up your woodland area with banners and skylights, put up signs in various directions? There are a host of options to bring an authentic festival vibe to your event. You could offer a line-up programme attached to a take-home lanyard to make for a great souvenir or promo giveaway. And perhaps the most exciting part, you get to book an eclectic line-up of live bands, solo artists and comedians that you love the sound of. You could even consider something different and bring a psychic, magician or acrobat to your festival.
6. Decade Throwback
Cast your mind back to a popular decade, one that is popular in current times or one that resonates with you or your guests. Transport your team back to a bygone era with a tribute act playing the top hits of the decade you choose, spin some vinyl or book a jazz band to take you back to the days of Prohibition in Chicago or the mods and rockers of the 60s and 70s. Decorate your event with popcorn dispensers, arcade games, disco balls or designer cocktails. Complete your event by having your guests dress up in the attire of the era for a fully authentic soiree.
7. Funfair
Think hit musical Grease or 1920s Paris with the carousels and ferris wheels. For all budgets you can design an event that really wows guests. You can bring back funfair favourites like Hook a Duck, Coconut Shies and Crazy Mirrors. You can offer crazy golf, bouncy castle hire and a funfair photo board to add to the novel theme. Give your event the right vibes with a juggler, acrobat or circus performer and leave a sweet taste in the mouths of your guests with an ice cream stall and candy floss cart.
Garden Party Ideas for Adults
8. Entertainment
A dynamic music playlist that fits in and around your event, coming to the fore at the right moments, and settling into the background as and when is needed. Your event entertainment should be versatile and sum-up the style of your event. Book a string quartet or jazz big band for more erudite garden parties or a party DJ to make waves at your boat party. For your themed party, book a dynamic band or stunning solo vocalist to steal the show. Or for something to fully engage your audience book a wandering act such as walk-around magician or karaoke style band. Bandaoke offer a unique show, where your guests can take to the stage alongside the band.
9. Summer Themed Food
Food can also say a lot about your event and it should really tie in with your theme. A finger buffet might fit a garden party well and finishing touches like napkin art, fruit ice cubes, picnic blankets and hampers fit the style, while a lemonade stand and cocktail bar will always go down well. A traditional ice cream van could be a neat addition for dessert and offer a nostalgic feeling when that sound rings out as it comes up the drive.
For a Californian or beach feel, consider a BBQ or VW van serving seafood, and for that festival theme, consider a food truck, or two with different options available, for various dietary requirements.
10. Talking Points
It is often quoted that people 'come to celebrate their friend or colleague's success but leave talking about the…' Piñata, ice sculpture, living topiary, beer in a wheelbarrow. Offering some focal points, that wow without taking the attention from the event's objectives – can be a great way to make it memorable.
Turn your surfboards into tables, bring croquet to the lawn or offer a secret space for guests to find – people will go home talking about how amazing your event was. Add promotions, freebies or giveaways dependent on your event types and your guests will be doubly pleased.
Things to Avoid
Don't do too much. Don't try to combine themes or push your event on to people. Let your event flow naturally and take on a life of its own. The more you put into it and developing excitement around the venue or theme- the more people will jump on board and engage with those details.
Letting People Know
You can build up pre-event excitement with dynamic marketing, giveaways and promotional material. For an outdoor BBQ party or private occasion you can send out personal, fun invitations. For that summer feeling and to share the warm weather, make your guests sure that you are offering the place to be.
We hope you enjoyed browsing our summer event ideas for companies and private party planners. Our blog on summer dinner party ideas is one of many, helping you to make the right decisions when planning an event. See our other blogs for more event ideas to help you plan the perfect occasion.
Now you've planned the ultimate summer party you need an act to match! Choose Champions to book your music and entertainment this summer. Get in touch today via online form or speak to a booking agent directly on 0207 078 78 76.