6 Areas to Consider for Staying Safe at Festivals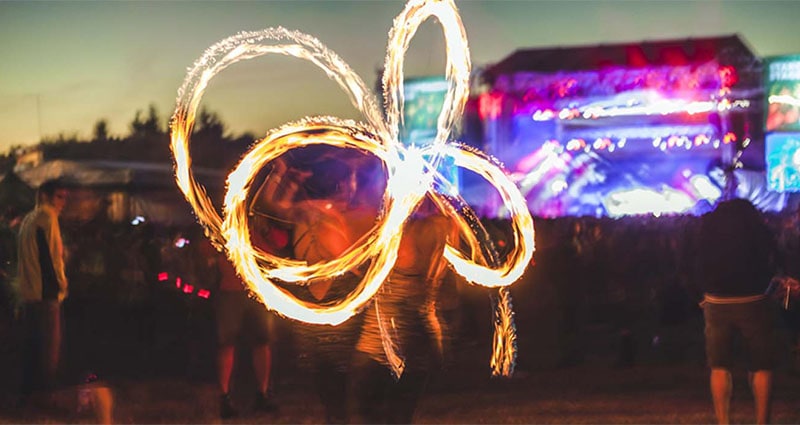 Music festivals have become the lifeblood of British summer time. Filling up news feeds and Instagram stories with videos of sun-soaked crowds and crackly phone recordings, festivals provide us with the soundtrack to a stellar summer. The photos and videos often hide the ugly side of festivals. Terrible toilets, dishevelled campsites, that sweaty guy who keeps bumping into you and hangovers so bad you want the earth's crust to open up like the Kraken's maw and swallow you whole, are just some of the side effects of the festival experience.
The silly thing is a lot of these downsides can be avoided with a little planning and foresight. We have put together this list to help you make the most of the good weather and good vibes without putting yourself in danger.
Drinks
Social lubricant, libations, booze, fermented fun, tipple, whatever you call it alcohol is the cause of most bad decisions at a festival and can be dangerous if left unchecked. The first thing you should do is keep an eye on your intake. Excessive drinking can be detrimental to your health so monitor your intake. There is no point drinking to excess only to sleep through the band you paid £200 to see. For better effects break up your drinks with a healthy dose of H2O. All the cool kids are doing it!
Secondly, never leave your drink unattended. In this imperfect world, there are people who wish others harm and unattended drinks are often a soft target. Spiked drinks are incredibly dangerous so don't accept drinks from people you don't know or trust. Similarly, if you can't pour your own drink make sure you can see who is to make sure no one tampers with it.
Finally, constantly watching your drink is a chore most of us could do without. What's more, as you push your way through lumo-painted drunkards you're sure to get bumped and slop the drink you've waited 40 minutes for over the biggest, scariest-looking guy you've ever seen. All of this can be avoided by bringing your own bottle or sealed container with you.
Food
Considering we are mammals who require sustenance to survive this one should be fairly obvious but festival heads, myself included, often fall into the trap of starving themselves for the sake of the party. It can be social pressure from that one guy in a string vest and baseball cap shouting 'eating is cheating', a budget 'streamlined' for the bar, or just inconvenience. Whatever causes you to experiment with a liquid diet should be disregarded completely. Festival organisers work tirelessly to bring some of the best food stalls to their events. You can dine on a classic bacon sandwich for breakfast, take a trip to Vietnam for a bành mì lunch and then close out the evening with the warm, cheesy, melty embrace of a pizza. Healthy options, vegan and vegetarian, and other alternatives are also becoming more common so don't be afraid to replace all those lost nutrients and keep the party going. Your body will be grateful for it and reward you with bags of energy to burn, making shapes on the dancefloor.
Campsite
What is a festival without the camping experience? The inexplicable dirt that finds its way into your sleeping bag, those drunk neighbours that choose to stage some al fresco relationship counselling beside your tent at three in the morning, and of course the lone shoe that is left behind as a memorial to all the hollering, fist pumps, and head bangs. It all adds to the magic of the occasion but is not without its faults.
Security is one of these faults and many festival goers have fallen victim to robbers in the dead of night. A common misconception is to lock your tent for security. Contrary to the obvious security it provides, a lock is like a red rag to a would-be thief. It indicates a) that there are valuables in the tent and b) nobody's home. If you would still rather lock your tent, try to keep the lock on an interior zip to hide the fact you have valuables.
Instead of kitting your tent out like a wannabe Fort Knox try to not bring any valuables you can't keep on your person. For a weekend, you can do without expensive accessories and toys. Stick to the holy trinity of festivals: mobile, money, and sunnies.
Another tip for the would-be 'Vasco de Gama Party' is to orientate yourself and make sure you have landmarks to help you find your campsite at night. If you're no good with directions find a buddy or drop a pin and save it to GPS for later. Modern festivals often have their area mapped out on apps like Google Maps makes it easy to save coordinates and meet up with friends or find your campsite.
Health
This is the part where I start to sound like your very unenthused sex-ed teacher but it is important to practice safe sex. Contraception is cheap and easy to use and a much better alternative to an STI. Consent is also very important to any intimate relations you may have. Taking advantage of someone who is no state to make decisions is despicable so make sure all parties are sober, consenting adults.
Before leaving for a festival make sure to pack any medication you may require as well as a few emergency kit items. If you plan to drink alcohol remember to check how your medication may react.
Summer is a truly lovely time of year but if there is one thing we've learned it's that us humans still have no idea how the sun works. Since music festivals began there have been tales of sunburn, sunstroke, and dehydration. Everyone has walked past that one guy at the festival who fell asleep… in the sun… without a shirt. He glows red and is so hot to the touch that you can crack an egg on him and cook up the world's worst breakfast. Don't be that guy. Use sun cream, shawls, hats, parasols, and anything else you may have lying about as your sun protection. Festivals are all about flexing some weird garb so splash out on that kimono or Panama hat and save yourself in style.
A sense which often falls upon deaf ears is... hearing. That terrible joke aside, standing in front of an obelisk of speakers as they send out hundreds of decibels of bone-shaking beats has been known to damage the little bits of cartilage on the side of your head. Disposable ear protectors are cheap and can be found across the land at pharmacies so be sure to invest in these if you ever want to hear the band after the festival.
Mobile
Mobiles have become many things; the medium through which we document our lives, the home of the dreaded 'read' report, and a device that gets dangerously hot when you try to play Pokemon Red. It's been a long time since mobile phones were just mobile phones but modern devices offer various forms of communication to keep you in touch with your mates. Be sure to keep your phone charged in case you really need a friend or an emergency service.
Friends and Festival Staff
Festivals are full of people. Numbering in the thousands and hundreds of thousands it can be easy to get lost. The buddy system of school days is on hand to keep you right. Find your bestie, or second-best bestie and cling to each other for dear life. Go to the loos, bar, and campsite together. Having an extra set of eyes can help keep you safe.
If you do lose your friends don't be afraid to ask for assistance. Festivals have information stands, emergency services and security to make it as safe as possible for all festival goers. If your phone is dead, ask one of the stall holders for a charger. Contrary to people out in 'real life', festival goers are there for a good time and camaraderie.
Security is paramount so be sure to plan ahead, follow these tips and your festival misadventures will turn into epic yarns that will have your mates and colleagues green with envy. Whether you've blown your budget on glow sticks or are sporting a Batman neck from all the head banging, coming home safe is the first prize and you should do everything you can to ensure this.
Champions can supply you with the finest of headline acts for a wide range of events including festivals, we also have a great selection of tribute acts to browse through. Get in touch today on 0207 078 78 76 or email a booking agent via agents@championsukplc.com