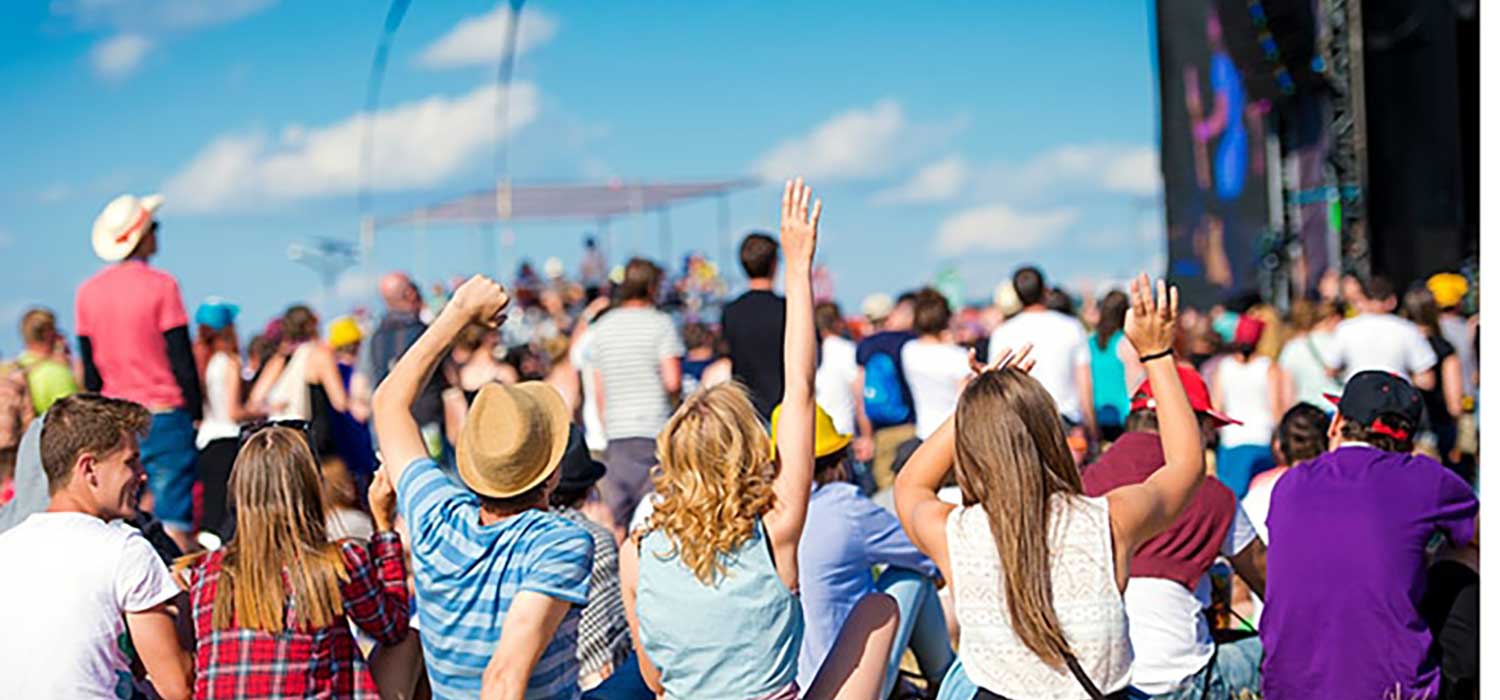 Top 5 Festivals To Visit In 2018
The summer months are renowned for jetting off on holiday, enjoying the great outdoors, and, of course, music festivals. Now the summer may be behind us, but that doesn't mean budding festival goers shouldn't be looking ahead to what the festival scene has to offer in 2018.
With a number of people attending festivals increasing year on year, it is important to get your tickets early to ensure you are one of the thousands of revellers enjoying the music from the world's biggest artists next year.
With so many different festivals to choose from, all of which have their own unique style, it can be difficult to know which one to choose. Thankfully, here at Champions Music & Entertainment, we have compiled a list of the top five festivals to visit in 2018.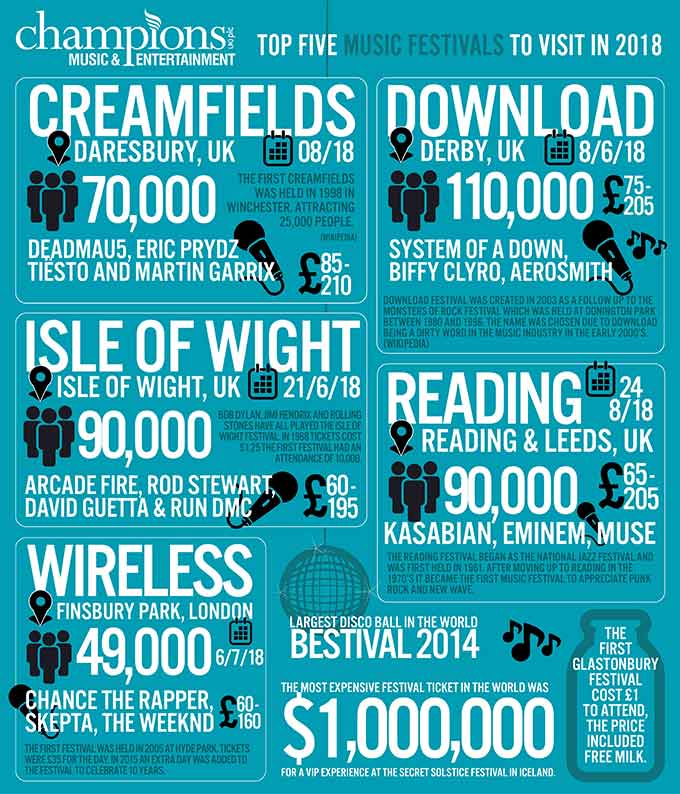 Creamfields
Where: Daresbury, Cheshire
When: Thursday 23 August - Sunday 26 August 2018
Price: £85-£210
Celebrating its 20th anniversary in 2018, Creamfields has come a long way since it first started in 1998. 25,000 people attended the first event and is renowned for its live DJ sets. The first ever Creamfields took place in Winchester before moving to Liverpool in 1999 where it remained for 17 years.
Created to bring dance music to bespoke crowds, Creamfields now sees over 70,000 people descend on Daresbury and part of the line-up for 2018 has already been announced and includes Deadmau5, Martin Garrix and Eric Prydz. As well as the UK festival, the success has Creamfields has branched out internationally with festivals in Portugal, Dubai and South America also taking place annually.
Download Festival 
Where: Derby
When: Friday 8 June - Sunday 10 June 2018
Price: £75-£110
One of the most popular rock and heavy metal festivals in the UK, Download has become a staple point on the rock calendar for many fans of the genre. Since its conception in 2003 some of the biggest rock bands have performed there including Metallica, Iron Maiden and Status Quo.
In the early noughties when the festival was created the name 'download' was decided on as download was considered a dirty word in the music industry following the emergence of illegally downloading music online.
With the festival continuing to grow, 2016 saw a new addition to the Download family, as well as the UK addition of the festival it was announced that France would also have its own annual Download festival. Iron Maiden who headlined the very first Download in 2003 headlined at the Longchamp Racecourse in Paris.
Isle of Wight Festival
Where: Isle of Wight
When: Thursday 21 June - Sunday 24 June 2018
Price: £60-195
The Isle of Wight festival was actually one of the front-runners of the British festival scene with its first ever festival taking place in 1968. However, it was in 1970 when it really made its name in what turned out to be a controversial event. Unexpectedly 600,000 people turned up, unprecedented numbers for the time. This actually lead to parliament installing the Isle of Wight County Council Act 1971 which prevented outdoor gatherings on the island of more than 5,000 people without a licence.
This saw a 32-year hiatus of the festival, which made its return in 2002. The revived festival has continued to grow ever since with more than 60,000 people attending in 2016. The likes of Bob Dylan, Jimi Hendrix and Rolling Stones have all played the festival, and Rod Stewart and David Guetta have already been announced for the 2018 festival.
Reading & Leeds Festival
Where: Reading & Leeds
When: Friday 24th August - Sunday 26 August 2018
Price: £65-£205
In 1961 the Reading festival began as the National Jazz Festival before becoming one of the most popular rock music festivals in England. The festival in both locations take place simultaneously with the same bill playing at both. Over the years some of the biggest stars in the world have performed at the festival with The Rolling Stones, Guns n' Roses and Pink Floyd all headlining.
Always immensely popular Reading & Leeds has forged a reputation amongst festival goers as one of the best music festivals in the country. The likes of NME and BBC Music regularly support the festival and 2017 saw Muse, Kasabian and Eminem wow audiences.
Wireless
Where: Finsbury Park, London
When: Friday 6 July - Sunday 8 July 2018
Price: £60-£160
The first ever Wireless festival took place in 2005 at Hyde Park and now regularly attracts nearly 50,000 people to the festival each year. In 2015 in celebration of the festival's 10 year anniversary, an extra day was added to the festival and over the years the likes of Drake, Asap Rocky and Chance the Rapper have all performed at the event.
This year looks set to be bigger than ever, with tickets already available.
So, if you have plans to attend a music festival next summer remember to get your tickets early, as they will sell out fast!
If a festival is not your thing but you still want to see some of the most famous artists in the country then look no further than Champions Music & Entertainment. For information on how to book any of our fantastic acts simply call 0207 078 78 76 or complete our online form and a member of our team will get back to you.