2019 Festival Calendar & Who You Can Book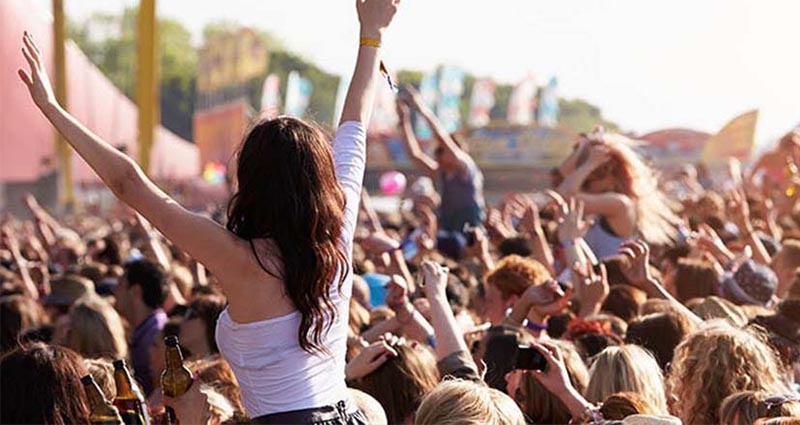 Festival season is fast approaching; the face paint is being bought, the tents are being constructed and the funky wellington boots are being packed. For diehard festival fans, the lovers of mud and overpriced food, the music is the main attraction. Countless acts hope and dream for a spot on Glastonbury's iconic Pyramid Stage or Latitude's woodland clearing, but which bands and vocalists have made the cut? And which ones can you book for your next event, bringing the festival to your front door?
Radio 1's Big Weekend (24th - 26th May 2019) - Middlesbrough:
If you are a fan of Radio 1, you already know all about Radio 1's Big Weekend, mostly due to the daily competition they run leading up to the event. Showcasing some of the biggest names in music, Radio 1's Big Weekend is a three-day event bringing mainstream radio music to the stage.
Who can I book?
2. James Arthur
3. Mabel
Capital's Summertime Ball (8th June 2019) - Wembley
Similarly to Radio 1's festival, Capital's Summertime Ball also capitalises on the musical acts they play on the radio. With a portion of the ticket sales going to Help a Capital Child, the Summertime Ball is a popular festival for families who regularly listen to the radio station.
Who can I book?
1. Calvin Harris
2. Mark Ronson
3. Tom Walker
Download Festival (14th - 16th June 2019) - Donnington
Hosted in Leicester, Download Festival is a rock-centric event featuring some of the most intense, entertaining and memorable acts the world has ever seen. With names like Metallica, Iron Maiden and AC/DC gracing the stage, Download guarantees an ear ringing weekend.
Who can I book?
1. Status Quo
2. Toploader
3. The RPJ Band
Glastonbury Festival (26th - 30th June 2019) - Somerset
One of the longest-running festivals, Glastonbury runs for an impressive five days of live music, comedy, theatre, circus and cabaret. Inspired by the ethos of hippie counter-culture, Glastonbury is an aesthetic explosion of colour centring around their iconic, prestigious Pyramid Stage.
Who can I book?
1. Protostereo (The Killers tribute band)
2. Kylie
3. George Ezra
Latitude Festival (18th - 21st July 2019) - Suffolk
Latitude Festival spans across four stages; the Obelisk Arena, the BBC Music Arena, the I Arena, and the Lake Stage, filling them with countless talented musicians. The festival explores all areas of entertainment, from poetry to comedy, to entertain thousands of excited ticket holders.
Who can I book?
1. Sigrid
2. Lily Allen
3. Chasing Mumford (Mumford and Sons tribute band)
Camp Bestival (26th - 29th July 2019) - Dorset
Described as the "little sister" of Bestival, Camp Bestival provides three entertaining days of music for families and small children, making the festival scene accessible for all. Despite the younger target audience, Camp Bestival is incredibly popular, winning Best New Festival Award and Best Family Festival.
Who can I book?
1. Annie Mac
2. Vengaboys
Boardmasters Festival (7th - 11th August 2019) - Newquay
Boardmasters unique approach to festival entertainment combines music with surfing and skateboarding. With a heritage going back to 1981, the festival is an iconic event of sports and singing. Thanks to Boardmasters laidback nature, it is a firm favourite amongst festival goers.
Who can I book?
1. Razorlight
Creamfields (22nd - 25th August 2019) - Cheshire
Creamfields is an international major dance festival, founded and organised by British club promoter Cream. The event has grown exponentially, gaining thousands of loyal fans from all over the world who are eager to enjoy a wide range of mainstream and underground DJs.
Who can I book?
2. Huw Stephens
3. Charlie Sloth
Reading (23rd - 25th August, 2019) - Reading
One half of the long-standing, popular festival duo, Reading Festival boasts an impressive lineup year after year. Held at Little John's Farm in central Reading since the 1960s, the festival is the world's oldest popular music festival still in existence, thanks to its array of successful rock and pop bands.
Who can I book?
1. Foo Fighters GB (Foo Fighters tribute band)
2. The Wombats
3. Au/Ra
Leeds (23rd - 25th August 2019) - Leeds
Sibling of Reading, Leeds Festival showcases some of the greatest musical acts of all time. Founded in 1999, Leeds has since hosted some of rock and indie's biggest stars and has since embraced other genres like hip-hop and houses. As well as music, Leeds Festival also accommodates for comedians and film screenings.
Who can I book?
1. Jess Glynne
2. Rudimental
3. Razorlight
To book any of the acts mentioned in his posts, simply contact Champions Music & Entertainment by emailing info@musicandbands.co.uk or by calling a booking agent directly on 0207 0787876.