5 Ways to Support Musicians Through the Coronavirus Pandemic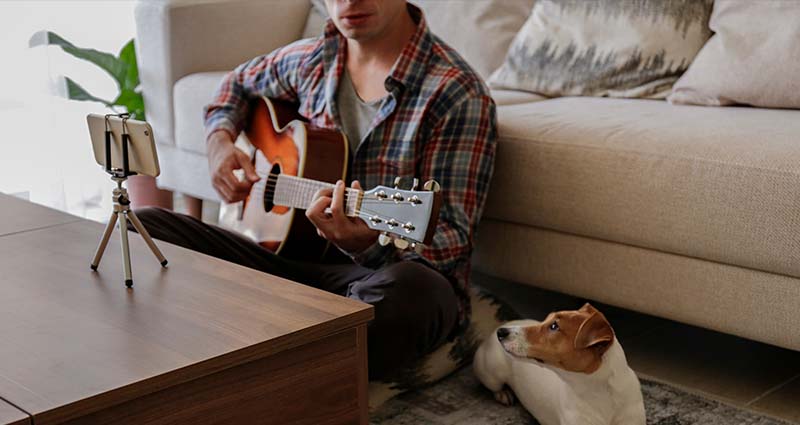 In such a turbulent period, no industry has felt the impact more than entertainment. With plays, concerts and private shows grinding to a halt back in March 2020, many musicians have faced a year of no income – a daunting prospect for any professional. From Radio 1's Big Weekend to Glastonbury, many of the UK's defining festivals have been cancelled this year. This does not just financially damage hundreds of artists, but take away a valuable source of promotion from their image, with many indie bands finding fame at British festivals.
That said, what can we do to support musicians through the Coronavirus pandemic?
Social Media
It is no secret that the world has gone completely digital. Social media has provided another way to catch the latest updates from our favourite musicians, with many artists conversing directly with fans via Twitter or Instagram. It is authentic and raw, an honest view into the lives of elite musicians. Whether it be livestreams from the comfort of their living rooms or what they actually eat when forced to cook from home, social media has brought us closer than ever to the artists we love.
Musicians thrive from online promotion, as it can reach a limitless number of potential supporters. Sharing their content, boosting their popularity through shares and attending online concerts are all great ways to support musicians online, as it increases their digital potential. With many musicians facing a bleak 2020, online support sends a clear message; we are still here, and can't wait to attend your concerts again soon.
Make Future Bookings
One of the best ways of supporting local bands, is to book then for your event. Many agencies, including Champions Music & Entertainment, request a deposit prior to the date, to secure the booking. This also provides a staggered income for bands and singers, which, during a time like this, is imperative. Booking a musician for your future event won't just ensure top-class entertainment, but directly support the artist themselves through a deposit.
Our Top Pick of Musicians to Book:
Jeff Dingle as Bruno Mars
From American Idol to your stage, Jeff Dingle is no stranger to headlining festivals and selling out venues of all sizes. As Bruno Mars' top tribute act, he perfectly emulates the Hawaiin performer's smooth vocals and cheeky charm, all the way down to his signature outfits. When booked for events, Jeff is a surefire success with audiences, guaranteed to keep the dance floor filled all night long.
Belinda Davids
A truly stand out performer, Belinda Davids has become one of the top Whitney Houston tribute acts in the country. Her powerful vocals and natural stage presence captivates audiences, keeping them hooked on every soaring note. Having graced both the stage and screen on more than one occasion, with Belinda, your event is in safe hands. There will not be dry eye in the house when Belinda sings the classic hit, I Will Always Love You.
The Funtime Frankies
The Funtime Frankies truly live up to their name when they hit the stage, creating a spectacle of energy and music for audiences. Able to build an unforgettable atmosphere, the band perform such hits as the Summer of 69 and Greatest Day, inviting your audience to sing along with them. Sure to get the party started, this band is the perfect addition to your wedding or corporate party.
Go Virtual
Can't wait for the pandemic to be over to get your groove on? With the wonders of technology, many events are going virtual. From entertainment interludes during international online quizzes to virtual festivals with some of the biggest names in music, audiences everywhere have flocked to hear their favourite band in the comfort of their own home. The experience is unique, it is personal and allows for an up-close concert – when the event is online, everyone gets a front row seat.
Best Musicians for Virtual Events:
Piano e Voce
Piano e Voce, made up of Julia and Pete, are a breath-taking duo. With Julia's angelic singing ability and Pete on the piano, the pair regularly entertain audiences of all sizes. When positioned in front of a camera for virtual events, Piano Voce have the power to reach through the screen and captivate the viewers' attention, touching their hearts with an emotive performance.
Faith Tucker
Including promotional events and corporate gatherings, Faith Tucker is the perfect virtual musician. Her booming vocals will easily reach audiences around the world, while her likeable personality makes her a joyous addition to a multitude of events. The BGT star has built an incredible music career, making now the best time to book this classical performer.
Andy Abraham
Andy Abraham is an X Factor star and television sensation. Appearing aside such famous faces as Joe Lycett, the talented singer has carved an impressive music career since his talent show appearance. With his natural charm, Andy is the perfect virtual performer, booked to entertain ticket holders and private corporate audiences alike. Having sold thousands of albums, your guests will instantly gravitate towards Andy's professionalism and talent.
Financial Support
With the industry stretched so thin, many charities have stepped in to offer financial help for musicians. Including Help Musicians and Spotify's Music Relief Project, several schemes have been set up to aid artists during the pandemic, providing support, financial help and promotion to save many acts from going under. Investing in these programmes is one of the easiest ways to support your favourite bands and singers.
Want a more direct approach? Many musicians will have a Patreon, which directs 95% of the money donated to that specific artist. And what's best, is that you will commonly receive perks from your investment, dependent on which tier you subscribe to. From new music to discount on merchandise, the platform allows you to directly support your chosen musician through a monthly subscription.
Purchase Music & Merchandise
Though concerts and gigs have been cancelled, music has certainly not been - we can still purchase music, stream and share our favourite songs. Whether you prefer digital downloads or physical CDs, streaming platforms or old-school LPs, the options for listening to your favourite albums suit everyone's preferences.
There is nothing quite like showing your allegiance to a band through merchandise. Wearing their branding loud and proud on t-shirts and tote bags can feel like being part of a community, and it is also a great way to support the artist. Merchandise can top-up the income that musicians have currently lost, increasing the likelihood of the band or singer returning to the stage next year.
Book a Solo Singer, Band or Tribute Act
If you would like to hire one of the exceptional entertainment featured in this post, or any of the other musicians on our website, contact Champions Music and Entertainment via [email protected] or call us directly on 0203 793 40 42.