A Round-Up Of The MTV EMAS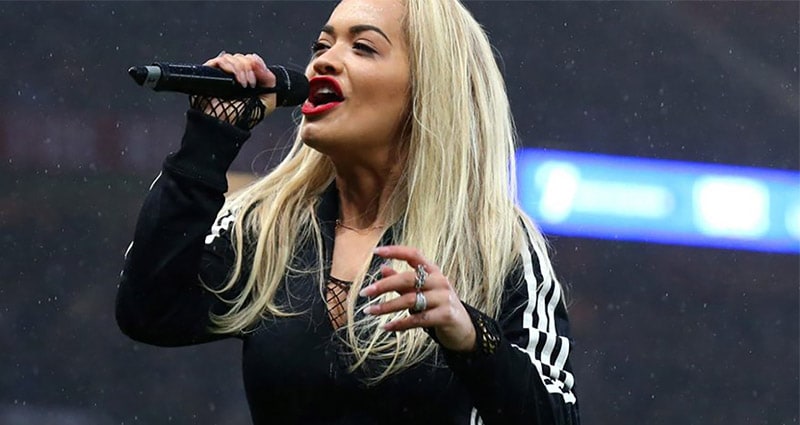 Last night saw the red carpet rolled out and glamorous attire adorned by all for one of the music industry's biggest and most anticipated nights – the MTV Europe Music Awards.
First launched in 1994, the MTV EMAs have become a pop culture tradition, celebrating the music industry's most successful and prominent artists.
The UK has had the pleasure of hosting the award ceremony a total of six times to date, with 2017 marking the second time the capital provided the backdrop to this ultra-cool event.
London's SSE Arena in Wembley welcomed artists and fans all of whom made their own statement on the red carpet.
As with any event of this kind, the evening was equally a showcase of style, and the red carpet looks certainly did not disappoint this year. From Demi Lovato's daring tartan jacket and trouser combo to Jared Leto's clash of colours, fashion took centre stage on the night, but nobody made more of a statement than the evening's host, Rita Ora…
The Hosts
Singer, actress and presenter, Rita Ora has always been playful with her red carpet looks, but the MTV EMAs saw her really push the boundaries. She made her entrance in a white dressing gown complete with a towel turban and of course, diamonds.
She didn't remain shower-chic all night though, in fact this outfit was just one of 13 changes she made on the night!
While some of her outfits, (she wore a pitchfork as a necklace), may have hit the headlines for the wrong reasons, and are sure to be made into some hilarious memes, her hosting abilities were certainly on point. Confident, funny and relevant, she brought an edge to the night and fans flocked to social media to praise her.
Any event, big or small, lives or dies by its host, and this year MTV got it right with Rita.
The Entertainment
If being in the same room as some of the world's biggest names isn't entertainment enough, the night also saw a selection of artists take to the stage to perform their latest hits.
Sets came from the likes of Eminem, Liam Payne, Stormzy, Shawn Mendes, French Montana, The Killers, David Guetta and U2, to name but a few.
The Highlights of the Night
Top five highlights from the night…
Eminem is back and blows audiences away with new single – After taking a hiatus from the spotlight to focus on a new album, Eminem was back where he belonged – on stage! And it was at the MTV EMAs where he chose to perform his newest single, Walk on Water which was released on Friday 10 November. The performance saw him share the stage with Skylar Grey.
Shawn Mendes walks away with a handful of awards – With his name appearing in a total of five categories, Shawn Mendes was the most nominated male artist of the night. Walking away with three awards, he won; Best Artist, Biggest Fans and Best Song for There's Nothing Holding Me Back.
The Return of U2 –Fans of Bono, The Edge, Adam Clayton and Larry Mullen Jr. were in for a treat as the band made a dynamic return at Trafalgar Square. The World Stage event, which took place on Saturday 11 November and which was part of the build up to the MTV EMAs, saw the band perform Get Out of Your Own Way. This built up great excitement around the launch of their new album Songs of Experience which is set for release on 1 December.
Stormzy gets stuck in the loo – Stormzy may have impressed with his performance of Big for Your Boots which saw him roll on stage in a police car, but prior to hitting the stage he found himself in an embarrassing situation. Accidentally walking into the ladies' toilets he feared he would be branded a 'creep' if he was spotted leaving the loo. He documented this funny moment on his social media and his fans were loving every moment.
A tribute to George Michael – As well as celebrating current artists, the night also paid homage to the late great George Michael. As we approach a year since his passing, The MTV EMAs concluded with a flashback to his Freedom 90performance at the first ever MTV EMAs in 1994.
The Winners
Voted for by fans, the MTV EMAs celebrate artists across 15 main categories and this year's winners included:
Best Song – Shawn Mendes (There's Nothing Holding Me Back)
Best Hip-Hop – Eminem
Best Video – Kenrick Lamar (Humble)
Best Alternative – Thirty Seconds to Mars
Best Pop – Camila Cabello
Best Artist – Shawn Mendes
Global Icon – U2
Best Look – Zayn Malik
Best New – Dua Lipa
Best Live – Ed Sheeran
Best Electronic – David Guetta
Best Rock – Coldplay
Biggest Fans – Shawn Mendes
Best Push – Hailee Steinfeld
Best World Stage – The Chainsmokers (Live from Isle of MTV Malta 2017)
Worldwide Act Winners – Lil' Kleine (The Netherlands), C.Tangana (Spain), Babymetal (Japan), Alma (Finland)
Next Year's Event
The next MTV EMAs will take place on 4 November in Spain. The host city of Bilbao will welcome artists to the Bilbao Exhibition Centre for what is set to be another great celebration of pop culture.