Top 10 Wedding Entertainment Ideas for Your Big Day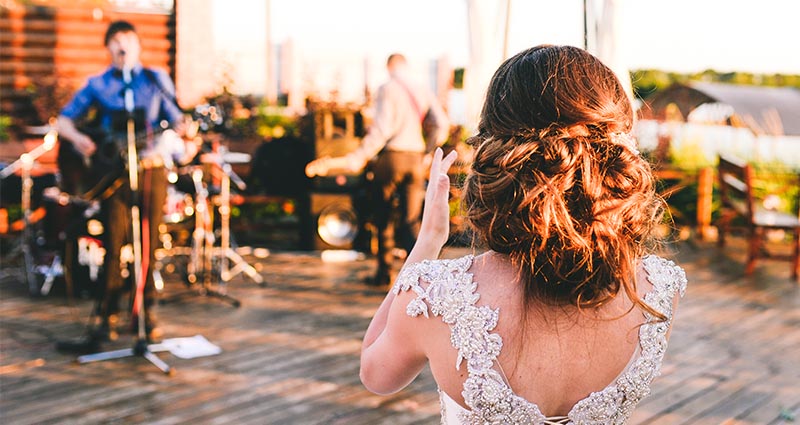 You have bought a wedding dress, hired the venue and sent out the invites – what's next? Aside from the ceremony and catering, many guests look to the entertainment as the defining factor of a joyous wedding, as they make up the unforgettable final piece of the perfect puzzle. Including classical singers for your champagne reception and talented party bands, whose rockin' setlist will entertain guests long into the night, our wide roster includes performers for every wedding.
Wedding Singers
Romantic, talented and a joy to witness live, wedding singers set the atmosphere of your big day. Perfectly tailored to your theme, their ability to perform both expert covers of hit songs and original tracks resonates with audiences, leaving them eager for an encore. These performers can sink into the background, complimenting your ceremony of love, or take the stage by storm, captivating your guests' attention all set long.
Faith Tucker
Classical singer, Faith Tucker, is the perfect wedding singer for your beautiful day. With her down to earth personality and rising fame in the industry, the Britain's Got Talent contestant has enjoyed vast success since her appearance in 2019, booked for everything from corporate events to weddings. Faith sets the tone of any event she attends, soothing audiences with her smooth, soaring vocals.
Famous DJs
Require a wedding entertainment act with a bit more bounce? Famous DJs are sure to keep the dance floor filled all event long, as their setlist of energetic hits invigorate audiences of all ages. Some of the more unique wedding reception ideas, these incredibly successful DJs have toured the world with their acts, gracing stages in Ibiza, Miami and more – is your wedding the next venue for these famous DJs?
Mark Ronson
Having worked with some of the biggest names in the business, Mark Ronson is a DJ above the rest. He guides his audience through track after track, effortlessly blending award-winning songs to create an entire evening of entertainment. Mark's DJ sets are a celebration of music, as this Grammy awarded artist balances audience interactions with instantly recognisable classics, establishing a connection with your guests.
Classical Acts
Arguably one of the most popular booking options for any wedding, is a classical act. These uplifting and inspiring performers have the skills needed to capture your guests' emotions, bringing a tear to their eyes with soaring instruments and vocals. Boasting a multitude of intimate duos and larger orchestras, including violinists, cellists even those who have mastered the harp, these classical performers are some of the best in the business.
Blue Topaz Strings
Leading female trio, Blue Topaz Strings, spark an emotive atmosphere at weddings. Performing classical songs to the highest caliber, this talented act plays the violin and cello with effortless ease, inviting audiences into the beautiful world of classical music. This band will connect with audiences of all ages, making them the all-round wedding entertainment that you have been looking for.
Magicians
Need an act who will resonate with guests, young and old? Magicians supply an unforgettable experience for attendees, while also appealing to audiences of all ages. These masters of illusion range from mentalists to sleight of hand experts, ensuring that every style or theme of wedding is catered for. A magician may not be your first thought, but more and more couples are expanding their options to include these spell-binding performers - besides, who doesn't love magic?
Magic Bones
Magical Bones is a magician to the stars. He has worked with the likes of Madonna and the Black-Eyed Peas, alongside many other celebrities who have fallen for his close up magic and sleight of hand. Otherwise known as Richard Essien, this talented wedding entertainer will mingle with guests, keeping them entertained with his unbelievable skills to ensure that your day never has a dull moment. Richard is a multi-faceted magician unlike any other.
Jazz Bands
Whether you require a signature tune to walk down the aisle to, or want to book a mood-setting band for your champaign reception, a jazz band is the answer. These performers combine classical hits with an upbeat rhythm, appealing to audiences of all demographics. Innkeeping with your classy affair, our jazz bands combine soul, funk with a vintage croon to keep guests swinging from start to finish.
Midnight Martinis
The Midnight Martinis are one of the country's top wedding bands, thanks to their stand-out jazz covers and talented harmonies. What truly sets the Midnight Martinis apart is their ability to resonate with guest, their innate instinct for tailoring performances to their audience and ensuring the best experience possible. No matter you theme or aesthetic, the Midnight Martinis will perfectly compliment weddings of all shapes and sizes.
Comedians
If you are looking for wedding entertainment ideas, you may not have considered a comedian – here is why you should. Comedians will lift the spirits of your big day, keeping guests on their toes, on the edge of their seats and in stitches with laughter! A comedian is the type of entertainment that your attendees will not expect, and will certainly never forget.
Jon Clegg
Star of Britain's Got Talent, Jon Clegg, blew the judges, audience and presenting pair Ant and Dec away with his spot-on impersonation of the Geordie duo! When booked for weddings, his slick vocalisations and gestures perfectly capture his chosen celebrity, leaving audiences unable to believe their eyes and ears. Aside from Jon's unmistakable talent, he is also a joyous personality to be around, creating an all-round experience.
Acrobats
Want to truly commit to your carnival theme, or require wedding ideas with a difference, book an acrobatic group. Your guests will never forget a special day featuring one of these class-acts, as their unbelievable ability to contort their bodies leave audiences amazed – and a little shocked! From clowns to gymnasts, guests will never forget a wedding featuring an acrobatic group.
Teater Komika
Originally from Czech Republic, Teater Komika are a leading acrobatic group, perfect for weddings with a difference. By combining modern tricks with traditional characterisation, costumes and a carnival theme, this talented group supplies magical entertainment at every event they attend. Including mimes, magicians, acrobats and clowns. Teater Komika have a performer for every wedding guest.
Tribute Bands
At Champions Music & Entertainment, we specialise in tribute acts – our team even run the annual National Tribute Music Awards! We pride ourselves on our broad range of tribute wedding singers, each perfectly encompassing their chosen artist through their vocals, costumes and gestures. Tribute singers are wedding entertainers with a difference - guests will never forget that your big day was attended by Dolly Parton, Bruce Springsteen, Ariana Grande or another celebrity!
Kelly O Brien as Dolly Parton
Having spent her entire life surrounded by country music, Kelly O Brien has featured on the likes of Home and Away and Good Morning Australia with her Dolly Parton tribute act. From Andrew Lloyd Webber's Starlight Express to your wedding stage, Kelly is an internationally recognised performer and founder of The Dolly Show. When you book Kelly, you are hiring a consummate professional.
Dance Troupes
What better way to fill the dance floor, than to get your audience in the partying mood with a dance act? From dance mob groups to show-stopping break dancers, your guests will be enamoured by their slick choreography and high energy moves. Your guests will be expecting a wedding band, so blow them away with a top-class dance group.
Club Mob
Surprise mob dance group, Club Mob, are an internet sensation with hundreds of thousands of views on YouTube alone. The perfect dance group for corporate events, festivals and, of course, weddings, they have been booked for the likes of Disney, Google and John Lewis. Club Mob will tailor their performance to your event, ensuring that guests are truly shocked when they break into dance!
Lookalikes
Can't book the real thing? Book a lookalike! Bring your childhood heroes to life with our uncanny acts, ranging from Winston Churchill to Marilyn Monroe, as well as present-day stars like Simon Cowell and Paloma Faith. Handpicked by our booking agents to perfectly suit your wedding's theme, these lookalikes will make your guests do a double take – then not be able to look away!
Charley Toulan as Marilyn Monroe
Charley Toulan as Marilyn Monroe does more than look like the blond bombshell, the wedding singer sounds like her too! Combining Marilyn's signature charm, vocalisation and bright red lipstick, Charley performs all of her greatest hits, including I Wanna Be Loved by You and Diamonds Are A Girl's Best Friend, enticing audiences. This instantly recognisable lookalike will captivate your guests' attention.
Book Wedding Entertainment
If you need wedding entertainment, contact Champions Music and Entertainment via [email protected] or call us directly on 0207 078 78 76, to find the perfect performer for your event.