What Were The Biggest Events Of 2018? And What To Expect In 2019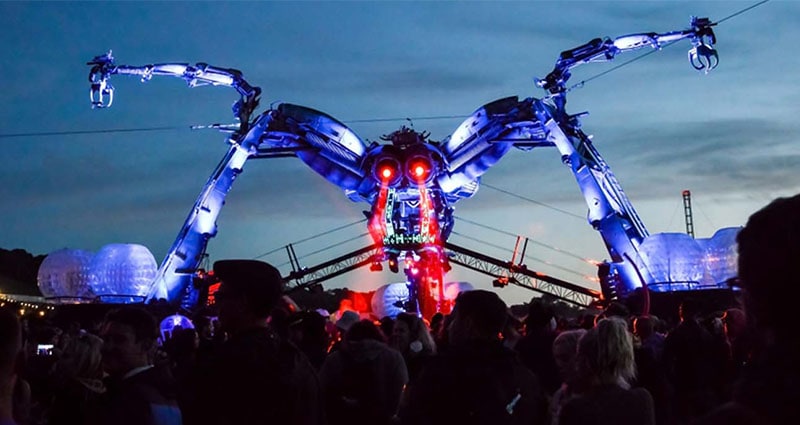 There were hundreds of occasions in 2018 that brought butterflies to the stomach's of concert crowds, TV viewers and festival-goers - and we have assembled just a few of them. Stand by for what we expect to be the biggest events of 2019 but first - here are our picks for the hottest live entertainment of 2018.
The Biggest Stories in Music of 2018
February 2018 - Stormzy Storms The Brit Awards
It feels as if everyone is talking about him. That's because he is the biggest Male Solo Artist in the UK right now. At least that's what the BRIT's told us in 2018 when Stormzy picked up the award and went into a furious attack on Theresa May, asking, "Theresa May, where's the money for Grenfell?" Elsewhere Gorillaz, Ed Sheeran, Dua Lipa, Lorde and Rag 'N' Bone Man picked up awards.
May 2018 - Arcadia Brings Monstrous Beats To The Olympic Park
With Glastonbury taking a year out to recover in 2018, the astonishing fire-spitting spider, Arcadia was free to thump out the biggest basslines on May's first bank holiday weekend. The biggest electronic acts descended on the Olympic Park to celebrate its 10th Anniversary. The likes of Groove Armada, Rudimental, Leftfield, Danny Byrd and Sven Vath did not disappoint.
June 2018 - The Killers Entertain At The Liberty Stadium
Another Indie rock band established in 2002 that have gone on to unprecedented success - The Killers might not be one of our own, but the Americans' sure know how to ramp up excitement. Brandon Flowers is a master entertainer and dragged up an unexpecting local to play the piano in Swansea. This one won't be forgotten in South Wales for some time.
June 2018 - Lost Voice Guy - Your Britain's Got Talent Winner
2018 was the year that Lost Voice Guy shook the nation on Britain's Got Talent. His incredible performances saw audiences fall in love with his clever jokes and self-deprecating humour, delivered with the comic timing of a true professional. A wonderful writer and born comic, Lost Voice Guy left the Hammersmith in stitches time and time again with himself and his trusty iPad. Look out for his 38-date springtime tour or book him for your own corporate events.
June 2018 - Ed Sheeran Wows At Wembley
Three years after his exceptional performance at Wembley, Ed was back doing his thing at the UK's biggest venue. With three sold-out nights under the arch, Ed managed the impressive feat of creating something completely different to his 2015 date. In true Sheeran style, he made it look seamless, even sending guests crazy as he dueted with grime superstar Stormzy for hit song, Shape Of You. If you can't get hold of the real Ed Sheeran, book a top tribute to him today.
July 2018 - Legendary Guitarists Clapton & Santana Hit Up Hyde Park
Barclaycard British Summer Time has a history of bringing together musical legends, and since starting out in 2013, they have welcomed The Rolling Stones, Stevie Wonder, Carole King and Tom Petty to Hyde Park. 2018 was the turn of Eric Clapton. The former guitarist and vocalist of pioneering blues-rock band, Blind Faith wowed the crowd with a stream of hits while one of his competitors for the 'world's greatest guitarist' throne, Carlos Santana also joined the breathtaking bill.
July 2018 - The World's Best Tribute Acts Come To Leicester
With Britain's biggest acts making their names at the BRIT Awards, their imitators were at work at their own award ceremony. Hundreds of the world's most exciting tribute acts from stage and screen came to Leicester in 2018 for The National Tribute Music Awards. Tributes to musical legends such as Kylie Minogue, Madness, Coldplay, Adele and Madonna all featured while Lionel Richie, Tina Turner, Elvis, ELO, Lady Gaga, Black Eyed Peas and Little Mix tribute acts claimed big prizes.
September 2018 - Arctic Monkeys Sell Out In Hours
Everyone's favourite Indie band, Arctic Monkeys sold out seven concerts before you could pause for breath in 2018 and proceeded to add a further five dates to satisfy some of the demand for tickets.
Their September tour included four gigs in their hometown of Sheffield which predictably went down a storm. 2019 sees them tour the world, from Australia to Columbia. We will miss them on home soil. But whether you were at the Dublin Arena or Sheffield's Motorpoint - this tour was a memorable one.
December 2018 - Muse Finish Of The Year In Style At The Royal Albert Hall
It may be their remarkable Wembley gig in 2007 that saw Muse rock the world, but the British rock sensations' special show in aid of The Prince's Trust went down similarly well. The band were on fire as they took lucky revellers at The Royal Albert Hall through their impressive songbook, as well as introducing them to their new album, Simulation Theory.
What Is Happening This Year?
Stormzy To Headline Glastonbury
Stormzy has arguably become Britain's biggest rapper in recent times, and his rapid rise has seen no end of accolades. The 25-year-old Croydon-born rapper has already had the first Grime album to reach number one, was named in BBC's Sound Of 2015 list, has swept the floor at the MOBO Awards and won Best Male Solo Artist at The BRIT Awards.
Though the coveted headline slot at Glastonbury represents something of a landmark moment for Stormzy, and for grime music itself. Headline rappers are a rarity at Glastonbury and only Jay Z and Kanye West have been deemed worthy of the slot in the past twenty years. Now an English rapper in his prime has a shot at the biggest show of his life thus far. Watch out for this one!
They're Back! Wannabe At Wembley This Summer?
In what was the biggest musical announcement of 2018, Spice Girls flooded Twitter feeds with news of their impending return to the big stage. 2019 will see them (minus Victoria Beckham) team up for the first time in a decade, touring the country's most prestigious venues from the Etihad Stadium, Manchester to the tour finale at Wembley Stadium. This one is bound to Spice Up Your Life!
Acaster Continues His Comic Ascent
We've enjoyed watching the original stand up comedian that is James Acaster stamp his fresh brand of humour across comedy. His hilarious act has been well-received on the UK's most loved panel shows, such as Mock The Week and his 2019 tour is selling out quick.
Top Pop Stars Back On Tour
Ariana Grande returns to the UK in August 2019, where she will take in London, Birmingham, Glasgow and Sheffield - giving her adoring fans the chance to enjoy her hot hits. Rita Ora will be back on the road for a spring/summer tour, Ozzy Osbourne will be waving goodbye with a 2019 tour while Snow Patrol begin their UK tour on January 25th. The Kooks will be back in Europe in the summer of 2019 when Madness will be causing...madness once more.
Harry Redknapp Talks To Britain
Your king of the jungle has found himself as the most in-demand after-dinner speaker in the UK this year. And his wonderful storytelling ability is set to be brought to guests. 'An Evening With Harry Redknapp' begins at the BAWA club in Bristol and will see him play 32 dates, either side of corporate engagements, ending at The Swan Theatre, High Wycombe in November.
Elton John To Wave Goodbye To The US Before His UK Swansong
The world caught wind of Elton John's final farewell at the tail-end of 2018. The musical legend will tour Europe and the USA in 2019 however before he bashes out twenty homecoming gigs in 2020 to end his illustrious career with a Christmas concert at London's O2.
Book The UK's Top Talent For Your Event Entertainment
With so many exciting events in 2018, 2019 has a lot to live up to. But we're excited for what the rumour mills are mustering up. Whether you are looking for small bands, big bands, famous artists, celebrity DJs, comedians & more this year, Champions Music & Entertainment are on hand to bring you the finest acts. Book your corporate entertainment and party entertainment with us today! Simply contact us via agents@championsukplc.com or speak to a booking agent directly on 0207 078 78 76.