5 Festive Christmas Cocktails to Impress Your Guests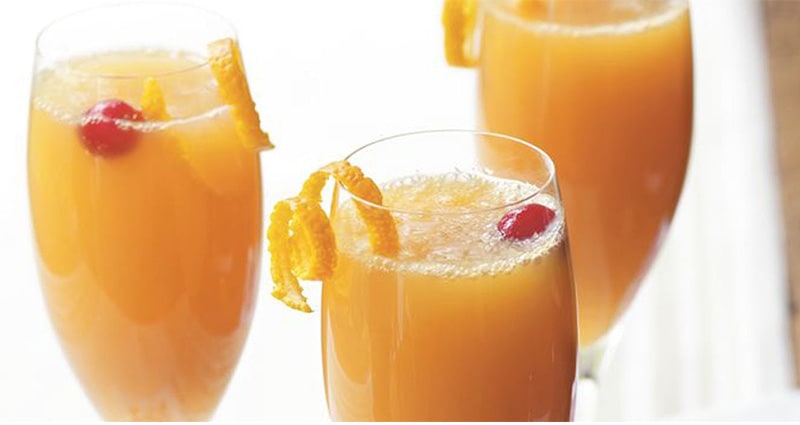 Christmas is the time to drink and be merry! Whether that is with the whole family or your colleagues from work, making sure you have the right tipple is a must.
A crafty Christmas cocktail is a lovely touch and can warm the cockles of the heart and add a rich red hue to jolly faces. We've been on the hunt for the best cocktails for your Christmas party and you'll not be disappointed with these saucy stocking fillers and Christmas cocktail recipes.
The Winter Wonderland Cocktail
Everyone dreams of a white Christmas. Gentle snowfall outside while a fire roars inside is a staple of Hollywood films and children's books and for good reason. Why not recreate that feeling with this tasty treat from The Marvellous Misadventures of a Foodie.
This recipe is quick, easy and elegant.
Ingredients (1 serving):
Cocktail-
40ml shots vanilla vodka 25ml shot Crème de Cocoa 25ml shot Coconut cream Ice
Garnish-
Straws Coconut flakes (optional)
Instructions:
Fill a cocktail shaker with ice and add the vanilla vodka, Crème de Cocoa and coconut cream Shake well until combined and chilled Strain into a glass with shaved ice Garnish with a straw and coconut flakes
This sweet treat is resplendent in white and is perfect for cocktail parties or anytime you feel like being a Christmassy James Bond.
Hot Buttered Rum
This warm rum cocktail is the perfect recipe for Christmas and goes all the way back to New England in the 1600s. A hotbed for pirates and rum distillation, the New Englanders found a way to stay warm and celebrate the festive season at the same time. This golden libation is also reminiscent of butterbeer from the world of Harry Potter making it the perfect addition to a Potter party.
The batter can be made to order or prepared in advance.
Ingredients (1 serving excluding the batter):
Batter-
½ cup unsalted butter ¾ cup brown sugar ¼-½ teaspoon ground cinnamon ¼ teaspoon ground nutmeg Pinch of ground cloves Small pinch of salt
Cocktail-
2 tablespoons Hot Buttered Rum Batter (See instructions below) 2 shots dark or spiced rum Boiling water
Garnish (optional)-
Whipped cream Ground cinnamon Ground nutmeg Cinnamon stick
Instructions:
For the batter-
Place the butter, sugar, cinnamon, nutmeg, cloves, and salt in a small bowl Mash together until combined Use immediately or cover and refrigerate
For the cocktail-
Drop two tablespoons of the batter into a glass mug Add the rum and boiling water, stir until fully combined Garnish with whipped cream, sprinkled spices and a cinnamon stick
Serve this warm mug of joy and watch your guests faces light up with a pirate smile.
Cranberry-Apple Cider Punch
What is a Christmas party without a punch? This staple of a good office event is a great way for everyone to get into the festive spirit with this concoction providing a refreshing kick. The gingery twist sets this easy-to-make cocktail apart and will have your guests fighting over the ladle all night.
Ingredients (20 servings):
Cocktail-
4 cups apple cider, chilled 2 cups cranberry juice cocktail, chilled 2 cups ginger ale, chilled 1 cup orange juice concentrate, frozen then thawed
Garnish-
Frozen cranberries Orange peel curls
Instructions:
In a large container, at least 4l, stir together the cranberry juice, cider, ginger ale and orange juice concentrate Refrigerate until serving Before serving, pour into a punch bowl and garnish with frozen cranberries and orange peel curls
To make this punch pop, serve in champagne flutes and watch as your guests dance the night away with this refreshing drink in hand.
Slow Cooker Spiced Wine
Spiced wine, mulled wine, grog, gluewein and vin chaud are just a few of the names this cocktail goes by. The perfect combo of sweet, spice and everything nice, this heart-warming drink is easy to make ahead of time with a slow cooker. Making this cocktail before your Christmas party means one less thing to worry about so take the stress out of party planning with this tasty treat.
Ingredients (6 Servings):
Cocktail-
1 bottle dry, fruity red wine (Merlot, Zinfandel or Cabernet Sauvignon) 2 cups apple cider ¼ cup honey 1 orange, orange and zest 5 whole cloves 4 cardamom pods 2 cinnamon sticks 1 whole star anise ¼ cup brandy
Garnish-
Orange slices Cinnamon sticks
Instructions:
Add wine, honey, cider, orange juice and zest to a large slow cooker Stir and add the cloves, cinnamon, cardamom and star anise Cook on a low heat until warm depending on when you need it Ladle into mugs and serve with a cinnamon stick and an orange slice
This cocktail is perfect for large groups and brings back memories of tree-lighting in the town square and Christmas markets. Why not recreate the magic of Christmas with this boozy beverage?
The Harvest Sparkle
Indulge the senses this Christmas with this posh cocktail. Combining the smokiness of whiskey with rich honey notes and prosecco effervescence, this cocktail will be the highlight of any Christmas do.
Ingredients (18 servings):
Cider Honey Syrup-
½ cup honey ¼ teaspoon ground ginger ¼ teaspoon ground cinnamon 1/8 teaspoon ground cloves 1 cup orange juice
Cocktail-
2 ¼ cups whiskey Cider honey syrup (see below) 2 ¼ cups prosecco or sparkling white wine
Garnish-
9 sprigs of rosemary
Instructions:
Cider Honey Syrup-
In a small saucepan over a medium heat, combine the orange juice, honey, ginger, cloves and cinnamon. Cook until it starts to bubble Remove from heat and allow to cool for 5 minutes
Cocktail-
Place ice, cider honey syrup and whiskey in a shaker and shake until mixed Strain into a pitcher and add the prosecco Serve in tall stemmed glasses with a half sprig of rosemary
This cocktail looks as good as it tastes. It is just as at home at a Gatsby party as it is in a bar so break out the shaker and impress your guests with this stunning Christmas cocktail.
With these cocktails on your menu, you're sure to leave a lasting impression. A little effort goes a long way and your guests will find themselves blown away by your creative cocktails. Once you've got the menu right, be sure to get the entertainment to turn your event into an unforgettable experience.
Champions Music and Entertainment have years of experience combining the perfect act, venue and other ingredients to make for heady events that will leave a lasting impression. Contact us today or browse our huge selection of artists to find the ideal music or entertainment to set your event above the rest.