The Ultimate Top 20 Best Stand-Up British Comedians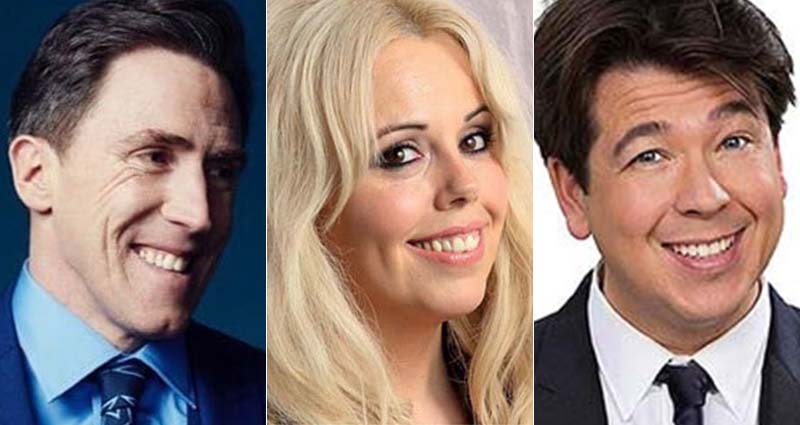 Comedians are crowd pleasers. Confident, charismatic and one of a kind, the comedians on this list are some of the best that Britain has to offer. It's one thing to see them on the television, but it is another to see them live. At Champions Music & Entertainment, you can book any of the comedians below to perform at your next event, or browse our other exceptionally funny comedians - we have someone for everyone!
1. Peter Kay: a household name in comedy:
"Two Eskimos sitting in a kayak were chilly; but when they lit a fire in the craft, it sank, proving once and for all that you can't have your kayak and heat it."
"I would say my strengths will be, ah, my dexterity at mathematics and linguistical skills. My weaknesses are: I'm a liar."
"My wife makes up deadlines, she'll go, 'got to clean the windows by 3:00'. Why? Is there a window inspection at 3:05 that I don't know about?"
4. Rob Brydon, hilarious TV presenter:
"If you do want to join in, the hashtag is 'give Rob Brydon a knighthood!'"
5. Nina Conti, talented ventriloquist:
"(NINA) 'Can you not deconstruct the act so early on?' (MONKEY) 'What, do they think that you're talking to a real monkey?'"
6. Miranda Hart, star of her own show:
"I spent my childhood clad in 1970s hand-me-downs, primarily from male cousins, which mainly consisted of a selection of beige, brown and orange dungarees. That, combined with a perfectly round pudding-bowl haircut, made me look, on a good day, like a cross between Ann Widdecombe, one of the Flower Pot Men, and a monk."
7. Jack Whitehall, a popular stand-up comic:
"I find adverts at the moment particularly annoying, like the banking adverts because they're trying to portray bankers as nice people… you walk up to the till, it's like 'ooh, how was your holiday?' I went camping. 'Ooh, why did you go camping?' Because you lost all of my money."
"All we really require is one drawer. That is all men want, one drawer. This is not a drawer we will pick out early. A drawer will become available, we will tentatively enquire as to it's usage, 'darling this drawer here, can I have this drawer for me?' 'Yes, I think you can.' 'Good this will be my man drawer!'"
9. Russell Howard, internationally celebrated comedian:
"My cousin's six. I was talking to him the other day and I said, 'What do you want to be when you're older?' He looked at me and went, 'A unicorn!' And I was like, 'Why is that?' He said: 'So I can stab people with my head!'"
10. Jason Manford: comedic icon and TV panel regular:
"I'm getting my wife a wooden leg for Christmas. It's not her main present, just her stocking filler."
11. Micky Flanagan, a legend of the comedy circuit:
"I was watching the London Marathon and saw one runner dressed as a chicken and another runner dressed as an egg. And I thought: 'This could be interesting.'"
12. Hugh Dennis, star of Outnumbered:
"(Donald Trump's) plan if he becomes President is he's gonna build a 2,000 mile-long wall between the US and Mexico. So he's gonna built a great wall to keep people out, and at the same time, his next point was he's not going to be influenced by China!"
"'Hotdogs cause butt cancer' – that was the original slogan for McDonald's before 'I'm loving it'."
"On a date, you want to present yourself warts and all. Well, maybe not warts - 'Ooh, you want to put some liquid nitrogen on that big one. Either that or a hat.'"
14. Jimmy Carr, presenter of 8/10 Cats:
"My favourite road sign is 'Falling Rocks'. What exactly am I supposed to do with that information? They may as well have a sign saying, 'Random accidents ahead'; 'Life's a lottery, Be lucky.'"
15. Bill Bailey, one of a kind comedian:
"People say 'Bill, are you an optimist?' And I say, 'I hope so.'"
16. Sean Lock, famed for his dry humour:
"I'm not sure what my biggest fear it, it's either me saying yes to Strictly (Come Dancing)... or them saying no."
17. David Mitchell, team captain on Would I Lie To You:
"There's one of those adverts that sort of says 'There are more germs on your chopping board than on your loo seat.' To which the answer is, 'well clearly that's fine, then.'"
18. Dara Ó Briain, Mock The Week presenter:
"I just like the idea of the Queen sitting at the tennis going, 'I'm a stamp! I'm a coin!'"
19. Ellie Taylor, versatile comic and radio presenter:
"I decided to use my wedding to investigate a political issue, and the political issue I decided to investigate was immigration. So what I did guys, what I did, I married... an immigrant. I know, immersive, isn't it? I am basically Louis Theroux! [...] Now my immigrant, he is Australian-themed, but they also come in other flavours, they do. They also come, don't know if you know this, with different outfits you can change. Great fun. Sometimes I put my one in a suit - I'm like 'ooh, smart immigrant'. Sometimes I put him in a pair of trainers - 'ooh, casual immigrant'. Sometimes, I put him in a job that a British person can't or won't do… get your own, there are loads of them!"
20. Sarah Millican, no-nonsense stand up comedian:
"I've got a friend. Actually, she's not a friend. She's a friend of a friend. I'm sure we all have those people. You know, you wouldn't invite her to your house, but you don't want her to die."
The best part? You can book every single one of these talented individuals to bring comedy to your event. Booking through Champions Music & Entertainment takes the stress out of securing an act, as an expert entertainment agency we do the leg work so you can sit back and enjoy the show. Whether you want to hire Peter Kay or Ellie Taylor, booking a comedian for your event is a surefire way to keep your guests entertained all night long.
Champions Music and Entertainment have a whole host of comedians available for corporate events, functions and private parties. Contact us by filling in our online contact form or by calling a booking agent directly on 0207 07 878 76.