Corporate parties are a chance for businesses to let loose after a stressful period, celebrate their successes or give back to hardworking employees. Everyone loves a good party, but what element is usually the most memorable? The band. The following are our top pick of bands ideal to get the party started at your corporate event. Fancy a bigger name? We have a range of famous bands on hand to supply the star factor at your party.
1. The Decades Band
Taking influence from the last sixty years of music, The Decades Band are a talented group of musicians available to book for your event. From rock to pop, funk to soul, their live covers blow audiences away. Your dance floor will be filled all night long with The Decades Band, as they effortlessly take guests on a journey from the 1960s through to modern-day through music. There is no stage that this band can't command, having previously performed at Wembley Stadium and Warwick Castle.
2. American Top Four
Playing homage to the Four Tops, The Drifters and The Temptations, American Four Tops are a Motown band with a difference. Fronted by William Hicks and backed by three truly versatile singers, the quartet are a timeless tribute to the 1980s music scene. Audiences will be enamoured by their cool charm and musical ability, as they sway the night away to such tracks as Soulman and I Can't Help Myself (Sugar Pie).
3. The Funtime Frankies
The Funtime Frankies are an award-winning function band ideal for corporate events. Two-time winners of The National Wedding Industry Awards, the band are now judges at the event, using their experience to spot the next dance floor-filling act. For over 15 years, The Funtime Frankies have entertained clients of all backgrounds across the UK, especially business clients. Their setlist spans 70 years, meaning that there is truly something for everyone.
4. Boogie Street
Boogie Street are a band with all of the bells and whistles. Their services expand beyond exceptional entertainment, to supplying sweet and savoury food carts and light-up "LOVE" decoration letters. Whether you want a professional party band or a stylised tribute act to the 70s and 80s, Boogie Street's versatile talent makes them the ideal corporate event entertainment.
5. The Redfords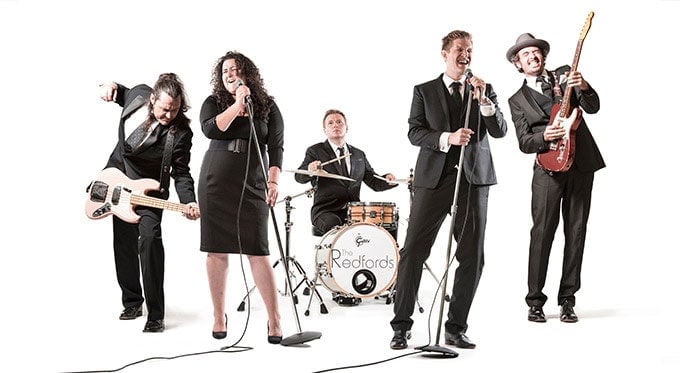 Described as "amazing", "incredible" and with "such a good mix of songs", The Redfords are a leading party band. Winners of the 2020 Kent Wedding Awards, the 2020 Wedding Industry Awards and 2019 Best of the Wedding Industry, they have already taken the wedding scene by storm. As corporate entertainment, The Redfords provide the same energy, talent and chart-topping hits.
6. King Pleasure and The Biscuit Boys
Stars of the stage and screen, King Pleasure & The Biscuit Boys have had over 100 televised appearances and radio broadcasts. This band comes with a "cheer-up guarantee", as they pride themselves on their upbeat, positive setlist. King Pleasure and The Pleasure Boys have a fan base spanning from the UK to Russia, a testament to their industry-defining influence. As corporate entertainers, there are few as experienced as this band.
7. The Black Sheikhs
What could be better than modern chart-toppers in a traditional 1920's jazz style? The Black Sheikhs turn convention on its head, with their unique take on popular songs that sets them apart from other party acts on the market. Your audience will never forget an event featuring The Black Sheikhs. Fronted by Lord Acton, this five-piece band boast a range of instruments and an even longer list of positive client testimonials.
8. Chromatic
Regional and National winners of the 2018 Wedding Industry Awards, Chromatic embody party energy. From Playstation to Hilton, their wide range of previous clients is a testament to their industry-leading talent. Contemporary, popular and aesthetically stylish, their setlist of eclectic songs will keep audiences entertained all event long. Chromatic are the full package; with a PA system, lighting, video promotion and unbelievable talent.
9. Café Manouche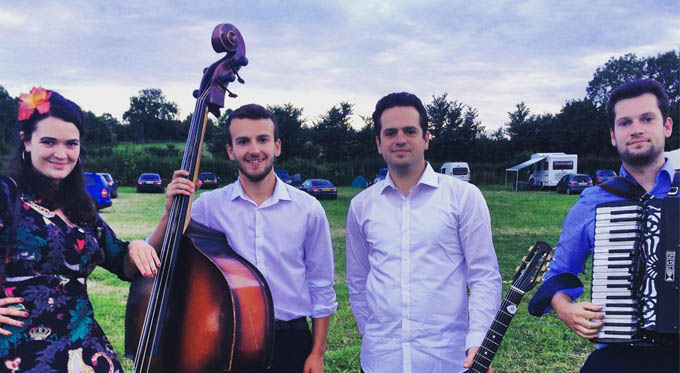 With an impressive list of recent clients, Café Manouche have the industry experience and talent to ensure that any corporate party runs smoothly. Experts in gypsy jazz and swing, they have graced such occasions as festivals, weddings and, of course, corporate events, filling any size stage with their bouncing tunes. Café Manouche have been described as "wonderful", "fantastic" and "a delight" by former clients, reflecting their immense popularity.
10. The Fly Boys
From Pharrell Williams to Judy Garland, there are few singers that The Fly Boys can't pay homage to. As separate artists, each member enjoyed international success before forming the band, making The Fly Boys a truly professional party act. Perfectly in harmony, this swing band add a flair of jazz to any modern hit, creating a truly unique experience for your audience.
Book A Corporate Party Band
To book any of the party bands in this article, simply contact Champions Music & Bands by calling 0203 7934 042 or sending us a message via our online contact form.