Top 10+ Stand-Up Comedians For Your Next Event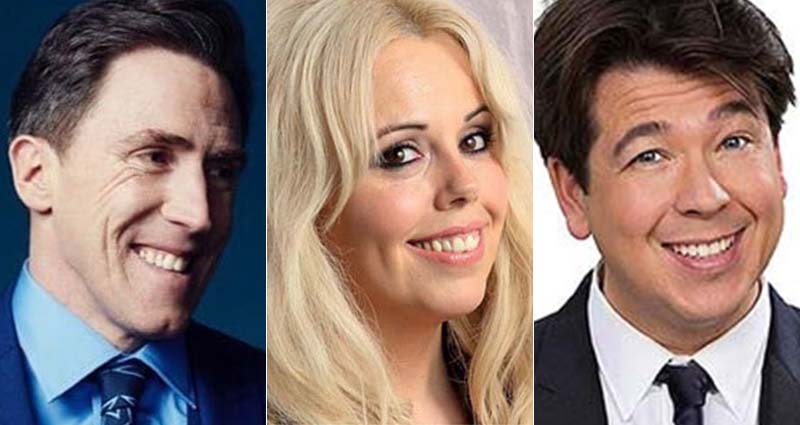 Comedians are crowd-pleasers. Confident, charismatic and one of a kind, the comedians on this list are some of the best that Britain has to offer. It is one thing to see them on the television, but it is another to see them live. At Champions Music & Entertainment, you can book top comedians to perform at your next event, thanks to our experienced, professional booking agents and their industry contacts - we have someone for everyone!
Why book a comedian?
Comedians are the perfect entertainers – they are witty, charismatic, and carve a memorable connection with your audience. From weddings to corporate parties, these unique performers cut through the typical bands and singers to supply entertainment with a difference. Each of our comedians can tailor their material to your guests, so whether you desire an internationally renowned comic or a rising talent, these performers will ensure that your event is truly unforgettable.
Nabil Abdulrashid
Youngest Black Comic at the Hammersmith Apollo
"The name Nabil Abdulrashid basically means… that my phone calls are monitored. The annoying thing about being a Muslim in 21st century Britain is you know that MI5 and the Home Office listen in on your phone calls – but they don't go halves on the bill!"
Book Nabil Abdulrashid.
Roisin Conaty
Comedic Star from 8 Out of 10 Cats
"I would say my strengths will be, ah, my dexterity at mathematics and linguistical skills. My weaknesses are: I'm a liar."
Book Roisin Conaty.
Nina Conti
Talented Ventriloquist
"(NINA) 'Can you not deconstruct the act so early on?' (MONKEY) 'What, do they think that you're talking to a real monkey?'"
Book Nina Conti.
Jack Whitehall
Versatile Comic, Presenter & Event Host
"I find adverts at the moment particularly annoying, like the banking adverts, because they're trying to portray bankers as nice people… You walk up to the till, it's like, 'ooh, how was your holiday?', I went camping. 'Ooh, why did you go camping?', Because YOU lost all of my money."
Book Jack Whitehall.
Jason Manford
Comedy Icon & TV Panel Regular
"I'm getting my wife a wooden leg for Christmas. It's not her main present, just her stocking filler."
Book Jason Manford.
Hugh Dennis
Star of Outnumbered
"(Donald Trump's) plan if he becomes President is, he's gonna build a 2,000-mile-long wall between the US and Mexico. So, he's gonna built a great wall to keep people out, and at the same time, his next point was he's not going to be influenced by China!"
Book Hugh Dennis.
Jimmy Carr
Presenter of 8 Out of 10 Cats
"My favourite road sign is 'Falling Rocks'. What exactly am I supposed to do with that information? They may as well have a sign saying, 'Random accidents ahead' [or] 'Life's a lottery, Be lucky.'"
Book Jimmy Carr.
Stephen K Amos
Comedy Compere at London's Big Fish
"I love performing in front of all you wonderful people. But really, this isn't all that. What I really want is my own show. But the BBC have very strict guidelines about ethnicity. Apparently, I've got to wait for Lenny Henry to die."
Book Stephen K Amos.
David Mitchell
Team Captain on Would I Lie to You?
"Fish don't blink. Which is the main eye defence. If you're ever trying to get the eye out of a fish and it blinks… it may be a lion."
Book David Mitchell.
Dara Ó Briain
Mock of the Week Presenter
"I just like the idea of the Queen sitting at the tennis going, 'I'm a stamp! I'm a coin!'"
Book Dara Ó Briain.
Babatunde Aléshé
Winner of the 2019 Amused Moose National New Comic Award
"Me and my wife, you know we got a son now, he's two, and we were like debating like; 'do we stay in London?'. And my wife was like 'no, no we gotta get out'. Now, we got a dilemma, you know - do we stay in London and risk our son growing up and joining a gang, or, do we leave London and risk our child growing up with a Birmingham accent?"
Book Babatunde Aléshé.
Book a Show-Stopping Comedian
Booking through Champions Music & Entertainment takes the stress out of securing an act. As an expert entertainment agency, we do the leg work so you can sit back and enjoy the show. Whether you want to hire Nabil Abdulrashid or Jack Whitehall, booking a comedian for your event is a sure-fire way to keep your guests entertained all night long.
Champions Music and Entertainment have a whole host of comedians available for corporate events, functions and private parties. Contact us by filling in our online contact form or by calling a booking agent directly on 0207 07 878 76.