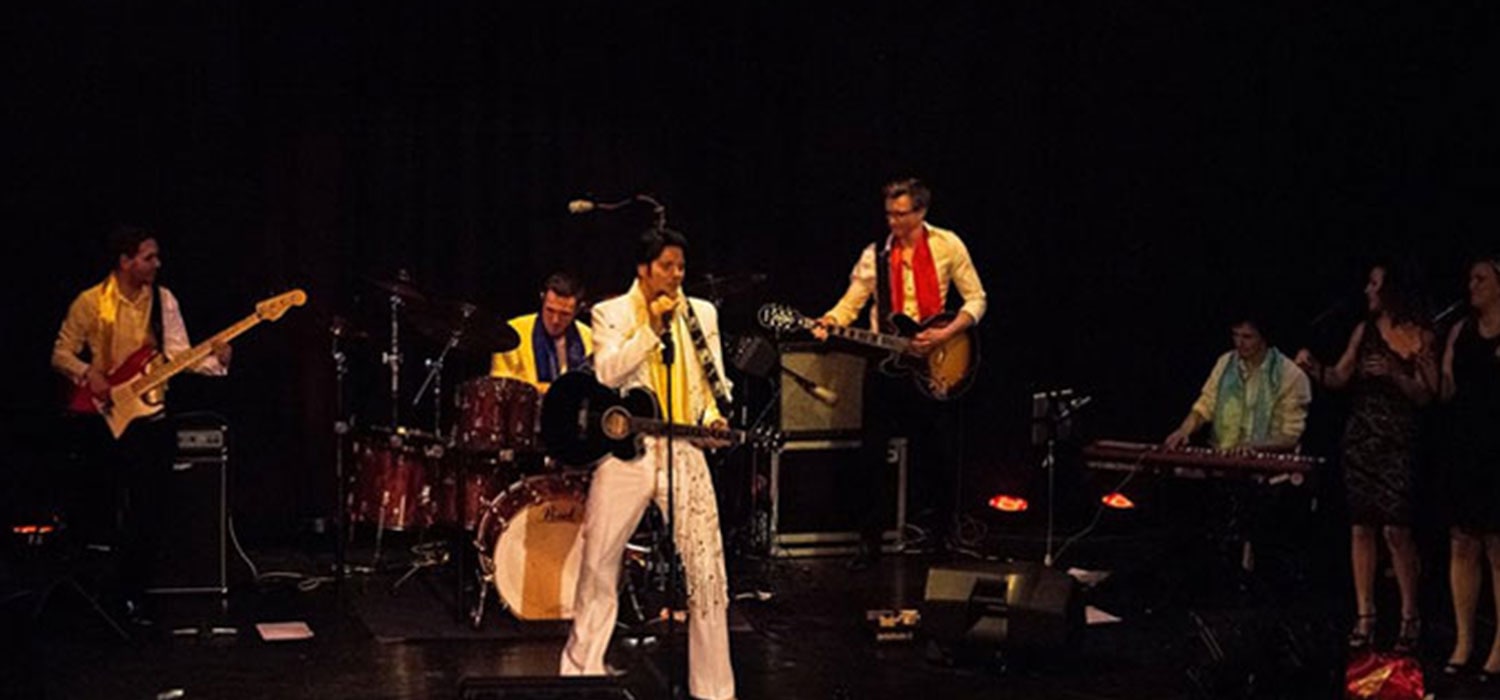 In The Spotlight: Paul Francis Thorpe as Elvis
What makes a great Elvis Presley tribute act and why would a performer choose to re-enact what the King of Rock 'n' Roll did on record and on stage – knowing that they would be scrutinised closer than perhaps any other artist? How can they possibly match up? Surely they are setting themselves up to be inferior to the original and so will inevitably disappoint?
The whole Elvis Presley tribute debate is probably for another time – and there are certainly a huge amount of people out there dressing up as The King and performing his songs. But if we focus the spotlight on one act in particular, we can shine a light on what it takes to be the kind of tribute act that people love.
When you see Paul Francis Thorpe doing his act on stage you seriously have to keep telling yourself that Elvis Presley is not in the building. In fact, if you close your eyes just a little so that the detailed features of Paul's face are not immediately visible, it really is like watching the real thing around 40 years after he left us. Not only that, but it is like Elvis has been frozen in perpetuity, preserved at his peak for us all to enjoy over and over again. We can even interact with him, calling out requests and he answers us!
When the man comes out on to the stage, you would expect the voice to be spot on and the clothes to be perfect but a good tribute act is so much more than that. Paul's mannerisms are precisely those of The King. You know that he must have studied Elvis closely over and over and over again and that the star's personality has apparently seeped into Paul's very being. The act is so good that you wonder how Paul – who is 'in character' every second that he is on stage – manages to divest himself of Elvis's persona and return to himself… like impressionist, Mike Yarwood used to do when, at the end of his weekly TV show, he would always say: "And this is me".
With an artist like Presley – who went through so many metamorphoses in his career that spanned more than 20 years – it's difficult to choose which image to portray but Paul clearly knows them all and is able to project them perfectly to an appreciative audience.
Of course, the band is also important because they have to get the sound and feel totally correct. As anyone knows who has seen a TV talent show, the first few notes and the first couple of lines are what win over a crowd. When the band gets through the intro and Paul sings the initial lyrics that virtually everybody knows – and has heard on countless occasions throughout their lives – that's the moment when people look at each other and mouth "Wow".
There are people who simply don't 'get' the concept of tribute acts but you only have to watch Paul Francis Thorpe as Elvis and it all becomes clear. This man obviously has immense talent and he has chosen to use it to honour planet Earth's greatest rock act. The vocal inflections, the body moves (including the karate), the walk, the hand gestures, the stroking of the hair, the hitching of the belt – even the off-the-cuff remarks to the audience – are done in exactly the style of The King.
Nobody can BE Presley, of course, there was and always will be just one Elvis. But if we want to celebrate the man's talent and musical legacy – and have a brilliant time in the process – then what better way than to watch someone who is note-for-note, mannerism-for-mannerism the very best thing next to the original?
Also, you don't have to be one of the many billions of Elvis fans to enjoy the man's repertoire and to appreciate Paul's talent. Suspicious Minds, The Wonder of You, I Just Can't Help Believing, My Way, Burning Love, Jailhouse Rock, Heartbreak Hotel, Bridge Over Troubled Water, Way Down, Viva Las Vegas, Sweet Caroline, A Fool Such As I, Polk Salad Annie… all of these songs have been used on compilation albums, appeared in films and TV series and been played on the radio so many times that even those who weren't around when the great man was alive find themselves able to sing along to these tunes word-for-word.
Of course, we can all agree that tribute acts are most definitely a genuine form of entertainment that thousands and thousands of people around the world absolutely love. And we can also agree that Paul Francis Thorpe is one of the very best tribute acts who will never disappoint and will turn out a performance to be remembered time and time again. So if we want an answer to why Paul and his ilk do what they do, it is perfectly straightforward – they love to entertain, they love to feel the musical creations of innovators coursing through their veins and they love to send people home with a smile on their faces having had a fantastic time.
To book Paul Francis Thorpe as Elvis to perform at your corporate function, private party, festival or elsewhere, simply contact Champions Music & Entertainment by completing the online form or by telephoning the office on 0207 078 78 76.