Which Acts Headlined Glastonbury's Pyramid Stage 2019? (And Who You Can Book!)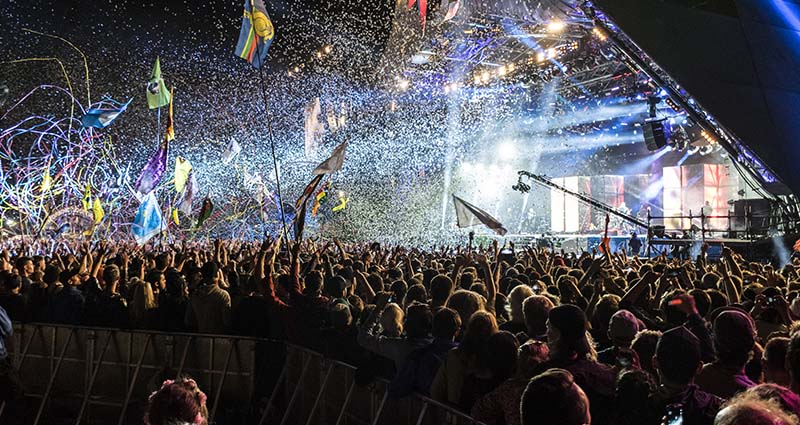 Glastonbury Festival, or Glastofest for the regulars, is an annual event showcasing some of the best musical talents in the industry. After making their stage times readily available online, audiences gathered in front of the Pyramid Stage hours before their favourite performer's headlining set started, desperate to witness music history in action. Taking place at Worthy Farm, a dairy farm in Somerset, here are the headline acts from Glastonbury 2019 who kept audiences dancing all night long.
The best part? You can book any of the acts you see in this post, ready for your own festival! Bring the Glastonbury 2019 lineup to your stage, by contacting Champions Music & Entertainment.
Friday, 28/06/2019:
The first day of Glastonbury 2019 saw soaring temperatures and life-changing moments. Fans revelled in the diverse range of food on offer, appeasing the appetite of both vegans and meat eaters.
But there was one man who stole the show and filled the field with excited ticket holders; Stormzy. As the second Black artist to take the stage by storm, behind Skin from Skunk Anansie in 1999, he made a political message with the song Vossy Bop, adorn in a bespoke stab-proof vest.
George Ezra
The relaxed English musician took to the sage on Friday, serenading the audience with his whimsical, charming music. Originally from Hertfordshire, 26-year-old George Ezra first released music in 2013 with two EP's named Did You Hear The Rain? and Cassy O'. Rising to fame with his hit single, Budapest, the singer won the Brit Award for British Male Solo Artist in early 2019.
Described by the Guardian's Laura Snapes as a "sunbeam blast of charisma", George's set had crowds swaying and singing along to his summery songs. Reportedly treating the headline performance "like any other show", the humble singer played homage to the sunshine with such hits as Shotgun and Budapest, keeping his audience hooked until the very last chord.
If you watched his set with envy, then we have some good news for you. George Ezra is available to book through Champions Music & Entertainment, as the perfect addition to any event. Whether you want to slow dance to Hold My Girl at your wedding or feature his soulful voice at your own festival, George Ezra's Glastonbury performance could feature on your stage.
Tom Odell
After growing up surrounded by Elton John and David Bowie, Tom Odell developed his natural, unique vocal style. In 2012 he released his debut EP, Songs from Another Love, which quickly gained critical acclaim in the form of a Brit Critics' Choice Award. In the following year, he released his debut studio album, Long Way Down, which was followed by his second and third albums, Wrong Crowd and Jubilee Road. In recognition of his lyrical mastery, Tom won the Ivor Novello Award, Songwriter of the Year, in 2014.
Tom took to the piano as a hush fell over the crowd on Friday afternoon. Once the melody picked up, it didn't take long for the audience to start stamping their feet and clapping their hands to the pace of Another Love. Backed by a full band, his performance was equally moving as it was beautiful.
Similarly to George Ezra, Tom Odell is the missing piece to your sophisticated occasion. Tom Odell's Glastonbury performance was filled with soaring vocals and empowering instrumentals, the perfect combination for private functions and popular festivals.
Saturday, 29/06/2019:
Saturday saw the return of The Killers to the mainstage, headlining in front of thousands of audience members. But the real stars of the day were the audience, who kept the energy pulsating around the field all day long. From pop, rock and dance to some nostalgic favourites, Saturday saw the likes of Sean Paul and Janet Jackson grace the stage.
Despite the hangovers and uncomfortable nights sleep in a tent, audiences embraced all of the sights, smells and varied genres the festival had to offer.
The Killers
Originally from Las Vegas, Nevada, The Killers are a household name for rock fans and beyond. Led by singer, songwriter Brendon Flowers, they released five consecutive chart-topping albums between 2004 and 2017. Noted as one of the biggest rock bands in the 21st century, they have performed in over 50 countries and headlined venues like Madison Square Garden, Wembley Stadium and Glastonbury Festival.
Under the bright lights of the stage, the crowd sang every word of every song in The Killer's setlist. Tens of thousands of people sang, and in some cases shouted, along with hits like Mr Brightside and Somebody Told Me, as firework's dappled the field in colourful lights. Sunburnt, frazzled and tired, the crowd lapped up every chord The Killers had to offer, making the performance a fan-favourite of the entire weekend. With 15 years of experience, the band performed their chart-topping hits.
If you need to get a crowd going, bobbing their heads and stamping their feet, then The Killers tribute band, Protostereo, are for you. Perfect for any festival, the band are a hit with audiences everywhere, no matter their music preference. Simply viewing The Killer's Glastonbury set is enough to convince you that they are a band to remember, so book the next best thing today.
Anne Marie
From Ciao Adios to Friends, Anne Marie is a regular on the UK charts. Her adaptable vocal ability and energetic performing style, make her a hit with audiences across the country. Despite her career still being in its early stages, she has earned 6 respectable awards, including most recently the Artist of the Year at the Remarkable Women Awards in 2019.
Performing a live stripped back rendition of 2002, Anne Marie positioned herself as a charming, easy listening female singer. Her extraordinary vocal ability was clear to hear, whilst her connection with the audience made her personable and relatable. With her minimal makeup and all-white ensemble, Anne performed with a wide smile. Joined by a live band and DJ, the singer captivated the audience with her energetic performance and likeable nature.
If the only thing missing from your event is the music, then have we got an act for you. Anne Marie's Glastonbury performance is not a one-off, as she gives her heart and soul every time she enters the stage. Book Anne Marie today for your festival or party, to give your audience the concert they deserve.
Sunday, 30/06/2019:
On Sunday, the Pyramid Stage featured a family reunion live on stage, with Miley Cyrus, Billy Ray Cyrus and Lil Nas X taking to the stage to perform Old Town Road. In celebration of the festival's new policy to tackle single-use plastic, David Attenborough congratulated captivated audiences for their commitment to sustainability. As the day continued to surprise, rapper Dave was joined by a loyal fan who rapped every lyric to AJ Tracey, to the symphony of a cheering audience.
Vampire Weekend
Formed in 2006, Vampire Weekend is an American indie rock band that has influenced the music industry for over a decade. Since the release of their debut album named after the band, Vampire Weekend, singles like Mansard Roof and A-Punk have stood out as unique in comparison with the rest of the genre. Followed by Contra in 2010 and Modern Vampires of the City in 2013, the band earned a Grammy Award for Best Alternative Music Album in 2014. Riding high on their 11 years of success, Vampire Weekend released their fourth album, Father of the Bride, in 2019.
With a mix of their own music and covers of Fleetwood Mac's Everywhere and Chicago's Summer In The Park, audiences were spoilt for choice with Vampire Weekend's performance. The relaxed set got the audience involved by asking them to make requests, this resulted in the band playing their classic hits Cape Cod Kwassa Kwassa and Giant. As the sun set, the audience bobbed along to the tinkling melodies and laid back vocals, lapping up the last few rays of sunlight on the grass.
Book a band with a difference and feature Vampire Weekend at your next event. Energetic, fun and unlike anyone else on the scene, Vampire Weekend's Glastonbury set is a testament to their talent. Contact Champions Music and Entertainment to guarantee that your occasion is one to remember.
Kylie Minogue
One of the most recognisable Queens of Pop, Kylie Minogue needs no introduction. The Australian singer had her first taste of fame from the soap opera Neighbours, before taking position behind the mic. She has since received critical acclaim and international success, with songs like Can't Get You Out Of My Head soaring to the top of the charts. Recognised as the highest-selling Australian of all time, Kylie has been awarded a Grammy Award, three Brit Awards, two MTV Video Music Awards and two MTV Europe Music Awards to date. However, with more music set to be released, her list of accolades will certainly increase.
Kylie had filled her stage with metal structures and pastel covered dancers, creating a feast for the audience's eyes. With her infectious energy and recognisable hits, even the volunteers guarding the perimeter of the stage were dancing along. Kylie sounded as good live as she does pre-recorded, effortlessly strutting around the stage in a sparkly gold ensemble. The performance was evidently emotional for the disco queen, as she thanked the audience for their dedication and support.
Kylie Minogue's Glastonbury performance was met with thousands of cheering fans, who sang along to each and every song the Australian performed. If you need more budget-friendly options then we have you covered, with our range of Kylie Minogue tribute acts who are eager to do the singer justice.
Years & Years
Years & Years are a British synth-pop band fronted by Olly Alexander. Their music has been described as a mix of electropop, R&B and 90s house music, unique in its sound the band shot to number one on the UK album charts with their debut album, Communion. Most recently, the band received two awards in 2018, GQ's Best Live Act and Best Styling from the 2018 UK Music Video Awards. Having been nominated for three awards in 2019, Years & Years are set to continue dominating the music scene.
Tens of thousands of people gathered in front of the Pyramid Stage to witness the surreal experience Years & Years provided. Strutting around the stage in his bright tartan trousers, chain metal top and 90s style Creepers, lead singer Olly interacted with beaming contortionists. Stunning visuals and high energy aside, Olly truly stole the show when he gave a heartfelt speech about the LGBT+ community. Approaching the audience, he spread his message of acceptance and love, to the reaction of a cheering crowd.
Years & Years' Glastonbury set took the audience by storm. Energetic and moving, their passion for music and groundbreaking talent is unquestionable. Do your next event justice by booking Years & Years today!
Want to bring a bit of Glastonbury to your event? Champions Music and Entertainment have a whole host of headline acts available for corporate events, functions and private parties. Contact us by filling in our online contact form or by calling a booking agent directly on 0203 79 340 42.